Utilities suffer on day of light trading

NZ Newswire
4/10/2016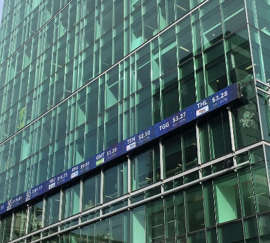 © Twitter/NZX Limited Utilities suffer on day of light trading New Zealand shares fell in light trading, with NZX declining on news its chief executive Tim Bennett will leave the stock market operator at the end of the year, while utilities Vector and Contact Energy also dropped.
The S&P/NZX 50 Index decreased 20.02 points, or 0.3 per cent, to 7,352.47. Within the index, 26 stocks declined, 17 rose and seven were unchanged. Turnover was $119 million.
NZX fell as low as 99 cents, ending the day down 1.9 per cent at $1.03. CEO Bennett will leave the stock exchange operator at the end of 2016, earlier than envisaged when he joined the company in 2012, to allow for a new chief to start at the beginning of the financial year.
During his four-year tenure, NZX oversaw a jump in listings that coincided with the government's partial privatisation programme, the expansion of a suite of derivative products, and the acquisition of SuperLife and Apteryx to boost the stock exchange's funds management business.
"He's been quite significant, he came in after Mark Weldon and led the business through some significant change," Peter McIntyre, investment adviser at Craigs Investment Partners said.
Utilities were sold off, with Vector leading the index lower, down 2.4 per cent to $3.21, Contact Energy down 1.8 per cent to $4.94, and Mercury NZ dropping 1.6 per cent to $3.01.
Sky TV was the best performer, up 2.2 per cent to $5.05. A2 Milk Co rose 2.2 per cent to $1.89, Xero gained 2 per cent to $19.89, and Freightways advanced 1.8 per cent to $6.66.
Outside the benchmark index, Oceanagold Corp rose 5.2 per cent to $4.43.
Airworks Holdings gained 14 per cent to $5.05. Chinese company Zhejiang Rifa Holding Group (RIFA) has entered a lock-up deed with the major shareholders in the specialist aviation company at $5.40 per share, with a view to making a partial takeover of the company.