Van Gisbergen extends Supercars title lead

NZ Newswire
6/11/2016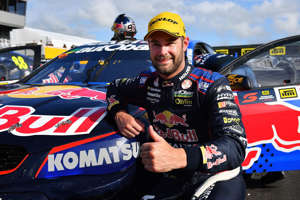 Mark Winterbottom and Jamie Whincup claimed the race wins at Pukekohe Park but series leader Shane van Gisbergen wore the biggest smile after emerging from the weekend with an iron grasp on his first Supercars title.
The Aucklander lapped up the affection from his home crowd as he claimed the Jason Richards Trophy for best points haul from the New Zealand meet, roaring to a 191-point championship lead with just two season-ending Homebush races to come.
Van Gisbergen will need only to finish 16th in each Sydney race to claim the crown, the first for a Kiwi since Jim Richards did so in a Nissan in 1991.
For perspective, the 27-year-old hasn't done so badly at a meet since Perth in 2014.
But there was a moment in Auckland when the title race hung in the balance.
Desperately seeking any improvement in his championship deficit, Whincup dive-bombed his teammate around the turn eight hairpin, t-boning van Gisbergen.
Both Red Bulls spun into the grass.
Van Gisbergen re-emerged in eighth, steadily climbing through the pack to finish third.
Whincup redressed behind his teammate and was served a drive-through penalty and finished 25th, ceding another 49 points to his sole title rival.
If the racing was explosive, the meeting of the two teammates in pit lane afterwards was anything but.
Whincup meekly apologised for his misstep, and van Gisbergen quickly accepted - along with the huge advantage in the title race it gave him.
Team boss Roland Dane told Fox Sports he wasn't surprised to see Whincup resort to the most desperate of measures, given the six-time champion was guaranteed second place in the overall standings.
"It was going to happen at some point ... Jamie probably felt he had nothing to lose," he said.
After sharing a pair of race wins and one-two results on Saturday, the dominant Red Bulls combined again for another one-two in Sunday's second race.
Scott McLaughlin claimed third place.
The Volvo man's duel with Craig Lowndes for third place in the overall standings will be one of the hottest contests at Homebush.
McLaughlin arrived 76 points in arrears to the 42-year-old but cut the deficit to just 21 points after besting the veteran in three of the four New Zealand races.
Winterbottom claimed Sunday's opening race after powering from the second row of the grid past van Gisbergen and Scott Pye.
"I might be old but I do alright off the line," the reigning champion said.
Pye went on to finish second, DJR Team Penske's best result in the series in two years.