Vhoto Launches App Capturing Still Images From Video

TechCrunch
2/05/2014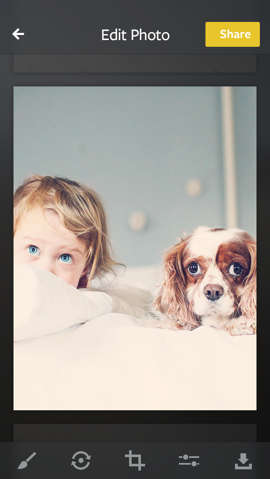 Taking the perfect picture is tricky (at least for me). I'm famous for being the world's worst photographer (seriously… there's an award), but a new app called launching for the iOS today may offer a solution to my problems.
The Vhoto app uses proprietary technology to find the best images in any video and turn them into stills. There's also a social component so users can tag, share, and search others' photos.
Users can shoot video through Vhoto's camera app or upload video from their library to Vhoto, where the company's software scans the video based on twenty different metrics — including blur, contrast, faces, smiles, user intent, and what chief executive Noah Hessler calls a "novelty detector" that searches video for the still frames that are most different from any preceding frame.
"There's basically a philosophy here that the difference between photo and video is bullshit," says Heller. "In practice the way [Vhoto] works is that I can go through any video and get great shots and short clips out of any of it."
Because the technology is based on video, there's no need for users to frame and pose shots. That means selfies, action shots, candid shots and group pictures become easier to capture as a still image.
Heller previously worked as a designer and product manager for social features around Microsoft's Xbox before moving on toas a senior vice president working on that studio's breakout hit, . In 2012 he relocated from sunny Santa Monica, Calif. to Boston to take a position as an entrepreneur in residence at .
At Atlas, Heller started working on the idea that would eventually become Vhoto and go on to raise $2.4 million in initial financing from investors including Atlas, and the company's co-founder and chairman .
Noah Hessler
"A great photo does not just come from the photographer who takes the right picture at the right moment, but from the editor who goes through thousand and thousands of photos to find the most relevant," says Heller. For him, Vhoto is that photo editor.
"We're a product that understands the power of video and that its dominance as a media form has to be inevitable," he says.
Vhoto is launching now as a free app in Apple's app store, but will soon reveal some "pro-sumer" features involving archiving and searching video content for users.
"Computer vision is the technology that allows Vhoto to understand if the subject of the photo is sharp, well-framed, and looking good," says Jay Bartot, Vhoto's chief technology officer in a statement. "Machine learning is the tool that that lets us begin to understand what you like. Vhoto combines computer vision and machine learning to deliver great results, better than what many people can get from a still photo alone."