Video emerges of Auckland digger crash

NZ Newswire
13/05/2016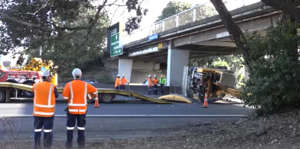 © Fairfax Crews work to clear the aftermath of a crash on the Southern Motorway. Video footage has emerged of the moment a digger being carried by a truck crashed into an Auckland overbridge, bringing parts of the motorway network to a halt.
No one was injured in the accident on Auckland's Southern Motorway on Monday afternoon, but it created a traffic jam that stretched more than nine kilometres.
A video now posted on Facebook shows CCTV footage of the high-speed collision in which the digger flies off the truck and two cars narrowly miss the heavy vehicle as they pass it on either side.
Police say they are still investigating the accident and deciding whether to lay charges.
Warning: video has poor sound quality