Waikato place not guaranteed for Boss

NZ Newswire
6/06/2016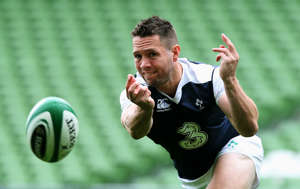 © Brian Lawless / PA Wire Tokoroa-born Ireland player Isaac Boss is returning to play for Waikato. Isaac Boss is bracing for a fight as he attempts to win back his Waikato halfback role 11 years after he left the country to pursue a career in Ireland.
The 36-year-old showed touches of class off the bench in the Mooloo's 83-13 rout of Thames Valley in their Ranfurly Shield defence in Paeroa on Monday.
It came three days after he stepped off the plane in Hamilton and warmed up with a club game on Saturday.
"Getting to put the jersey on again is a real privilege and I enjoyed every minute of it," he told NZ Newswire.
"I never thought I would be back. I'm pretty happy and lucky the way it's gone so I can spend more time with the family. Playing in front of them is pretty special."
Boss played seven seasons for Waikato and five of Super Rugby with the Chiefs and Hurricanes before heading to Ireland in 2005, where he racked up 239 games for Ulster and Leinster.
He also played 22 Test matches for Ireland after qualifying for the national team through his Irish-born grandmother.
Tokoroa-born Boss realises he faces a challenge if he is to jump ahead of 2015 New Zealand under-20 halfback Harrison Levien in the Waikato pecking order.
"I haven't played for a few months so there is a long way to go. Harrison Levien is a good player and I have to put pressure on him to get game time," he said.
"I haven't looked too far ahead. At 36 you don't count your chickens before they hatch."