War protesters happy NZ First upset

NZ Newswire
25/04/2017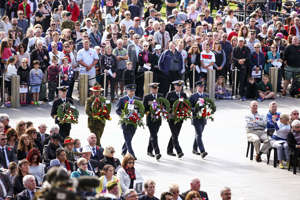 Best images of ANZAC Day 2017

A group of anti-war protesters are boasting about the disruption they made during Anzac Day commemorations on social media.
Peace Action caused a stir on Anzac Day with their presence at the Dawn Service in Wellington, and their actions have been called inappropriate.
"ANZAC Day is a sacred day for commemoration and reflection and using it for protest is inappropriate," says Ron Mark, New Zealand First Defence Spokesperson and a returned serviceman himself.
But the protesters say they aren't bother by NZ First's comments.
"You know you're doing something right when you're pissing off NZ First," the group posted on Facebook.
NZ's First chief of staff David Broome's 12-year-old son made headlines for confronting one of Peace Action's frontmen during an interview with Newshub.
"Do it tomorrow, do it the day before, do it any day but today it is wrong, wrong, wrong," Broome-Isa said.
"You are so inappropriate, I just cannot believe this."
Peace Action's Facebook page has since also been flooded with New Zealanders who disagree with their actions.
"Disgusting. This is the wrong place to do such activity. You are disrespecting the thousands of soldiers that died for our country. ... Go and protest or take your action else where. Anzac is not the day for it at all. Your grand parents would be disgusted with you! [sic]," one said.
"ANZAC day is a day to remember our bravery of our soldiers who had no choice in the matter ... Not a f**** day to protest about no war," another said.
However, Peace Action deny they were protesting.
"It wasn't a protest, we were remembering all who die in war," they said on social media.