Watch out for kiwis on the road: DoC

NZ Newswire
23/06/2017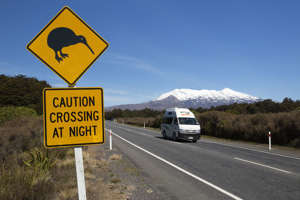 Motorists in the Tongariro district have been asked to keep their eyes peeled for kiwis waddling across the road at night after the death of one of the endangered birds.
A "hit and run" incident on Thursday night near Raurimu came about because a kiwi was likely moving towards another's call, says Tongariro kiwi ranger Jenny Hayward.
"They look a bit like possums but if you see a furry ball scurrying across the road just step off the gas and slow down, it may be a kiwi," she said.
The central North Island has "fragmented" populations of kiwi that live in forests adjacent to major roads and move around a lot, Ms Hayward said.
"We are coming into the ski season and will have lots of motorists travelling at night."
Drivers visiting the central North Island are encouraged to look out for signs that state kiwi are living in the area.