Weather challenge for BMX rider Walker

NZ Newswire
27/05/2016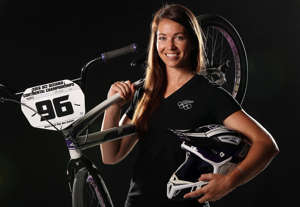 © Michael Bradley/Getty Images Sarah Walker poses during the New Zealand Olympic teams Rio 2016 Olympic Games portrait session on February 15, 2016 in Cambridge, New Zealand BMX ace Sarah Walker may have to battle weather delays as well as the opposition in Colombia as she continues her bid to make the Rio Olympics.
The 27-year-old New Zealander is competing in the world championship in Medellin on Sunday and Monday (NZT), a meeting that is the last Olympic qualifying event.
Rain is predicted over the weekend, but racing can extend into the evening under lights, which could mean a long, drawn-out competition should the weather intervene.
New Zealand has earned one spot in Rio for men, but none for women.
That means Walker, who has battled injuries since winning Olympic silver four years ago, is left chasing one of three individual places still available.
Despite the big reward on offer, Cycling New Zealand BMX coach Ryan Hollows says the approach won't change.
"We can't be concerned at what is at stake nor any other rider in the competition," he said.
"We'll treat it like any other event and focus on every gate and every lap. If we do that, not just Sarah but all of our riders, then the results will take care of themselves."
New Zealand have four other elite riders at the world championships - Matt Cameron and Michael Bias (men), and Rebecca Petch and Maynard Peel (juniors).
Hollows said the squad's base in Florida has been ideal, with the riders able to acclimatise to the heat and having good training facilities.