Website Testing Company Optimizely Raises $57M Round Led By Andreessen Horowitz

TechCrunch
5/05/2014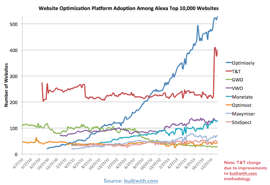 Looks like Andreessen Horowitz sees a big opportunity in A/B testing — the venture firm is leading a $57 million Series B round of funding in .
Andreessen partner Scott Weiss (co-founder and former CEO of Cisco-acquired security company IronPort) is joining the Optimizely board of directors.
Founded in 2010 by Dan Siroker and Pete Koomen, and incubated at Y Combinator, Optimizely aims to make it easy for website owners to test out different variations of their design and content. (Siroker was director of analytics for Barack Obama's presidential campaign in 2008.) Last month at Opticon, its first customer conference, the company .
Optimizely says it now has more than 7,000 customers who have created more than half a million experiments, making it the most widely-used testing platform. (The company sent me the BuiltWith chart below showing adoption among Alexa top 10,000 websites.) The company also says it has passed "a milestone of seven billion web experiences optimized."
In , Siroker said that bringing Weiss onto the board will help him deal with the challenges of growing the company:
I'll be the first to admit that I don't know what I don't know. I certainly didn't anticipate the challenges we faced at 50, 100, and 150 employees and I'm sure I won't be able to anticipate the challenges ahead. Our culture will have to adapt and scale as the company grows. Many companies fail at this stage because they grow recklessly without being thoughtful about culture, organizational design, and alignment around a focused set of goals. That is why we need a partner who has been there, done that.
Optimizely has just over a year ago, and says it has now raised a total of $88 million. Previous investors Benchmark Capital and Bain Capital Ventures also participated in the Series B.