Wellington suffers from 'jelly' effect

NZ Newswire
17/11/2016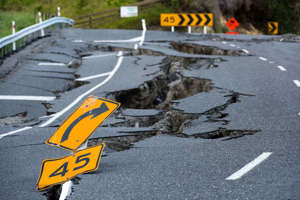 7.8 magnitude earthquake: In pictures The "unusual" effects of the Kaikoura earthquake mean buildings between eight and 15 storeys tall have been harder hit in Wellington than the older, shorter buildings even though they are considered quake-prone, engineers say.
Monday's magnitude-7.8 jolt has forced the closure of a raft of buildings in the capital and the New Zealand Society for Earthquake Engineering said that's because there was a much greater release of energy close to the city than initially thought.
The shaking lasted 90 seconds, compared to 20sec for the 2011 Christchurch disaster.
"It looks like buildings between eight and 15 storeys have been worst hit," said president Peter Smith.
"This quake has generated intense accelerations in buildings in this height range, especially those on softer soils."
Much of the capital's waterfront is built on land reclaimed from the harbour.
Short, stiff structures experienced relatively low accelerations in the quake.
"This is the main reason why Wellington's older buildings, which tend to be shorter, generally didn't suffer any damage, even though some are categorised as earthquake-prone."
University of Auckland civil engineering expert Charles Clifton says the Kaikoura quake generated peak ground acceleration of between 0.2g and 0.3g in Wellington, where typical buildings are designed to withstand 0.4g.
"The widespread level of structural damage in modern buildings designed for controlled damage in a severe earthquake is to be expected."
However, some buildings suffered more because of their size and shape, and if they were on softer ground, which moves more violently in quakes, he said.
"If the ground shakes starts to develop a resonant shaking frequency, such as you can get shaking a bowl of jelly, and this matches the vibration response of the building, the damage will be higher."
Earthquakes also exposed weaknesses in design or construction, Dr Clifton said.
Many of the lessons learned from the Canterbury earthquakes are now incorporated into the Building Code but few have been included in few buildings to date, says Institution of Professional Engineers New Zealand chief executive Susan Freeman-Greene says.
"These include new guidelines for rapid assessment of buildings and training of engineers in how to do these assessments."