Wellington win interprovincial golf crown

NZ Newswire
3/12/2016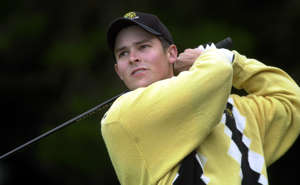 © Ross Land/Getty Images Jonathan Cane Wellington have claimed the national men's interprovincial golf crown for the first time in six years, romping to a 5-0 thrashing of Otago in the final.
The five-man Wellington team were too strong at New Plymouth's Ngamotu course, consigning Otago to final defeat for the third successive year.
Wellington No.2 Jonathan Cane won his four interprovincial title and his first since 2001, helping the cause with a dominant 4 and 3 defeat of Brandon Hodgson.
Wellington No.5 Kerry Mountcastle finished the week unbeaten with a 3 and 2 win over Chris Snow.
The other team members were national representative Daniel Hillier, Elton Nicholson and Ben Slaven.
Earlier, Otago upset two-time defending champions Waikato, who were unbeaten throughout the week, by a scoreline of 3/1/2 to 1-1/2 while Wellington accounted for North Harbour 3-2.