Westminster killer Khalid Masood's wife 'totally condemns' attack

Evening Standard
28/03/2017
Rohey Hydara, who is understood to have lived with Masood in Birmingham, said: "I totally condemn his actions.
"I express my condolences to the families of the victims that have died and wish a speedy recovery to all the injured."
It comes soon after his mother also branded his actions as an "atrocity".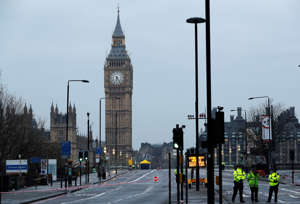 Attacks near UK Parliament: Latest updates Janet Ajao, 69, gave a statement through police in which she spoke of her distress at discovering her son had been the maniac who ploughed through pedestrians on Westminster Bridge before stabbing a police office to death.
"I am so deeply shocked, saddened and numbed by the actions my son has taken that have killed and injured innocent people in Westminster," she said.
"Since discovering that it was my son that was responsible I have shed many tears for the people caught up in this horrendous incident."
"I wish to make it absolutely clear, so there can be no doubt, I do not condone his actions nor support the beliefs he held that led to him committing this atrocity."
Masood was fatally shot by a police officer after carrying out his attack last Wednesday, in which at least 50 people were also injured.