What is Winston Peters up to?

NZ Newswire
9/09/2016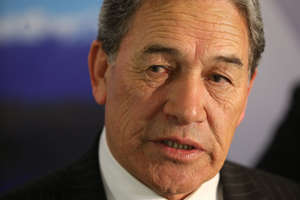 He said it twice during his party's annual convention last weekend.

At first sight it seems obvious what he means. Next year's election will essentially be between National. Labour/Greens and NZ First.
The question it has raised is whether he considers Labour and the Greens to be one party in terms of coalition negotiations.
They've signed a memorandum of understanding that means they'll work together in the lead-up to the election.
It doesn't commit them to anything after the election, but they'll almost certainly form the next government together if they have the numbers to oust the government.
Should Peters be the king-maker, and all the polls indicate he will be, which party would he first negotiate with?
His previous post-election position has been to first deal with the party that wins the most votes.
If that's National, there's no issue.
But if the combined Labour/Greens vote is more than National's, would he first go to them?
Or would he consider Labour, which has little chance of beating National one-on-one, to be a main party on its own?
In that case he would first negotiate with National.
Peters isn't likely to clear that up any time soon. He has never explained what he intends doing post-election, and he won't this time.
But it's an interesting scenario, even though which side he deals with first might not mean much in the end.
He'll get the most out of it that he can, and that could mean trading one side off against the other.
He did that in 1996, when he held the balance of power in the first MMP election.
It took nearly eight weeks, and Peters was blamed for the delay.
That wasn't entirely fair because it was the first time a coalition government had been formed in New Zealand, and it was new to all the players.
However, going fishing for a couple of days after the election didn't help.
There are still many opinion polls to go before the next election, which Prime Minister John Key has indicated will be in September or October, but a strong case is building for NZ First to again hold the balance of power.
It's a big stretch to believe that National, going for a fourth term, could again win 47 per cent of the party vote.
That was just enough, in 2014, for it to form a government with ACT and United Future.
The Maori Party became a partner later on.
And last time Kim Dotcom gave the government a helping hand.
National believes the backlash against Dotcom's campaign boosted its total by up to two percentage points.
He won't be there next year.
NZ First is stronger than it was in 2014, when there was a question hanging over its ability to reach the five per cent threshold.
Its poll ratings have been consistently higher since then and Peters has won the Northland electorate seat.
Peters has previously rejected the option of being part of a three-way coalition, and he's likely to do so again if the Greens have more seats than NZ First.
Or would be consider it's a two-way deal because Labour and the Greens are joined at the hip?