What Would Google Glass Look Like If It Was Designed By Prada?

TechCrunch
22/04/2014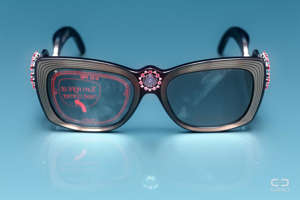 In a script that could have come out of "The Devil Wears Prada", German tech site has come up with an interesting thought: What would Google Glass look like if it had been designed by Prada? Trust those Europeans to think such a thought.
"Google Glass is unquestionably the queen of wearables – but the spacey design makes it equally the holy grail of nerds." Indeed it does!
Perhaps that's why Google – the world's largest manufacturer of eyewear – which counts the following as clients: Bvlgari, Burberry, Chanel, D & G, Dolce & Gabbana, DKNY, Emporio Armani, Giorgio Armani, Miu Miu, Polo, Ralph Lauren, Paul Smith, Prada, Salvatore Ferragamo, Versace and many more.
Curved decided to come up with a few ideas of their own. The result was .
However, they think they've made some improvements:
• Wireless charging through the glasses case
• A more symmetrical design with a camera in the middle of the glasses
• Batteries are integrated into both temples, not just one side
• A Pico projector uses as the display screen
• A 'Lattice design' for the menu
Personally I could totally see myself wearing these around town…