Wheeler: Economy set for strong growth

NZ Newswire
7/12/2016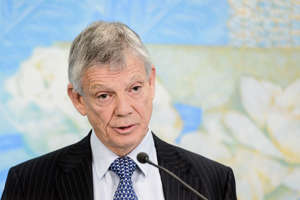 Reserve Bank governor Graeme Wheeler says the prospects are good for "continued strong growth" in the New Zealand economy in the next 18 months, with monetary policy accommodative enough to ensure inflation picks up after holding at unusually low levels for two years.
"The low point for CPI inflation has probably passed and, supported by the improvement in global commodity prices in recent months, we expect the December quarter 2016 CPI data to confirm that annual CPI inflation is moving back within the 1 to 3 per cent target band," he said in a speech in Greymouth.
In the absence of major unanticipated shocks, he said economic growth was likely to be driven by construction spending, continued migration, tourist flows, and accommodative monetary policy.
In the November monetary policy statement, the RBNZ cut the official cash rate to a record low 1.75 per cent while signalling no further cuts to the benchmark rate.
It projected annual inflation to rise to 1.1 per cent in the final quarter of 2016, following eight quarters where the rate was below its target band.
"Relative to the trends over the past two decades, New Zealand is experiencing stronger economic growth, lower inflation, and a lower unemployment rate - even with record levels of labour force participation," Mr Wheeler said.
Supply disruptions as a result of the Kaikoura earthquake were unlikely to have a major impact on overall economic growth, he said.
Still, he added that after eight years of growth, the economy's overall expansion "is weaker than other post-WWII expansions" and was characterised by low per-capita economic growth and labour productivity, higher house price inflation than was desirable and a kiwi dollar that remained high.
Mr Wheeler said 2017 will bring considerable political and economic uncertainties with the bursting of the housing bubble a major risk to growth.
"The main domestic risk - and one that could be triggered by developments offshore - is a significant correction in the housing market. Numerous measures indicate that New Zealand house prices are significantly inflated relative to usual valuation indicators."
The kiwi dollar climbed to 71.59 US cents after the speech was released, from 71.46 cents immediately beforehand.