Wheeler mulls market intervention

NZ Newswire
9/11/2016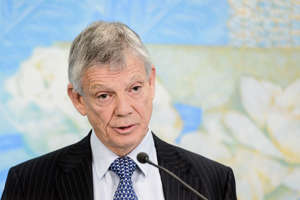 © Getty Images Graeme Wheeler, governor of the Reserve Bank of New Zealand Reserve Bank governor Graeme Wheeler says he has an "open mind" on intervening in foreign exchange markets as the strong kiwi dollar continues to keep a lid on inflation.
The currency fell on concerns it was approaching levels that might trigger a response from the central bank.
The kiwi had earlier jumped about half a US cent after the RBNZ cut the official cash rate to a record low 1.75 per cent and indicated it would stay put for at least the next two years.
In the monetary policy statement, Mr Wheeler said the exchange rate was higher than is sustainable for balanced economic growth and needed to decline, and he later told a media briefing in Wellington that he had "an open mind on intervention".
He declined to comment on whether the conditions for intervening - where the exchange rate is exceptionally high or low, unjustified by economic fundamentals, consistent with the policy target agreement, and market conditions allowing for a reasonable chance of success - had been met.
After his comments at the briefing, the kiwi dropped to 72.90 US cents from a peak of 73.58 cents before the press conference, and the trade-weighted index fell to 78.60 from as high as 79.30. The Reserve Bank raised the projected track for the TWI, though still sees it gradually falling over the next three years.
"The TWI's almost dropped 75 pips, all on intervention talk," said ASB's Tim Kelleher. "The TWI above 80 is the go-zone, theoretically, for them to do something."
The Reserve Bank built up its capacity to intervene in FX markets last year, with about $10.45 billion available to try to influence the market as at September 30.
It last intervened in August 2014, when the TWI was near 80 and it sold a net $521 million after Mr Wheeler had invoked the criteria needed in trying to jawbone the currency.
Mr Wheeler said he had considered the election of Donald Trump as US president before affirming the decision to cut the benchmark rate.
Polling for a surprise Trump victory spooked markets in Asia on Wednesday with stocks across the region slumping, though they've since recovered after a rally on Wall Street on the prospect of lower corporate taxes and looser regulation with Republicans controlling the White House, Senate and Congress.