When nine-year-old Matty saw a toddler in danger, he responded the only way he knew how.

Mamamia
28/06/2017
A nine-year-old Adelaide boy has been called a "superhero" after risking his life to save a three-year-old girl from a dog attack.
Matty Gebauer and his friend Willow were at a playground in Evanston Gardens in Adelaide's north when a staffy bull terrier jumped the fence and began to approach.
"He was about to launch at her when instead I got in the way and it launched at me," Matty told Seven News.
"Because Willow is three years old she needs to grow up. She needed to survive."
After throwing himself in front of Willow, Matty managed to fight off the dog. His lip was severed in the attack.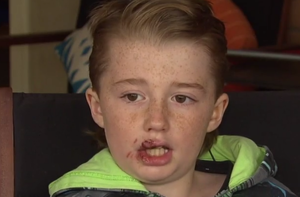 "That's just what he's like in his heart," Matty's mother Cassy told Seven News.
"He will do anything to protect a younger person."
The dog has since been euthanased and Matty has been treated for his injuries in hospital.
He is looking forward to returning to school after the ordeal - and for good reason.
"They (family and friends) have said that I'm amazing, I'm a superhero and I'm a champ," he said. "I'm going to tell the kids at school that I saved a little girl."