Whitelock calls time on NZ hockey career

NZ Newswire
13/10/2016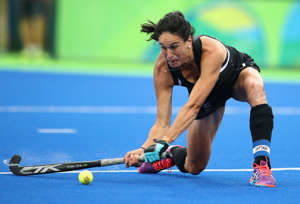 © Mark Kolbe/Getty Images Kayla Whitelock of New Zealand Four-time Olympian Kayla Whitelock is retiring from international hockey.
The 255-Test Black Stick says she thought hard about her future after New Zealand's loss to Germany in the third-fourth playoff in Rio in August.
"I was emotional and quite disappointed not to come away with a medal," she said on Thursday.
"Following some time back home with family, I've made the decision to officially retire."
The 30-year-old Whitelock, who is married to one-Test All Black George Whitelock, took time out from the sport after the 2014 Commonwealth Games and became a mother.
She made a comeback early this year in preparation for Rio.
Whitelock (nee Sharland) made her Test debut in 2003 and went on to score 63 international goals.
She has two medals from three Commonwealth Games appearances - silver in Delhi and bronze in Glasgow - and she also played in two World Cup tournaments.
"I'm really thankful to have been a part of the team for so long and also for the wonderful friendships I have developed over the years," she said.
Coach Mark Hager said Whitelock would be difficult to replace on and off the turf.
"Not only is she well respected on the domestic and international stage, but she will go down as one of the greatest Black Sticks of all time," he said.
"Her motto was, 'It's not about the number of games you play, but the quality of your performance every time you wear the singlet'. She certainly lived by that in every one of her games."