Wife drowned in bid to save husband

Independent.ie
2/04/2017
The bodies of Frank Dunne (39), from Malahide, Co Dublin, and his wife Alexandra Malkin Dunne (34), originally from the UK, were recovered near Carrick-on-Shannon, Co Leitrim, last Friday morning.
The couple, who were married for a number of years lived in Munich, and were a few days into a holiday in the area when tragedy struck.
They had hired a boat earlier in the week and were reported missing last Friday morning.
They were last seen having a meal in a local restaurant last Wednesday night.
The alarm was raised when they failed to answer their mobile phones after a number of friends tried to contact them. A well-placed source told the Sunday Independent it is believed Mr Dunne's wife jumped in to look for him after he accidentally fell into the water.
"The more likely scenario, based on where the bodies were found, is that she went in to save him.
"It is believed he fell - and then she jumped in.
"It's thought she was swimming around looking for him before she got into bother.
"His body was found right beside their cruiser."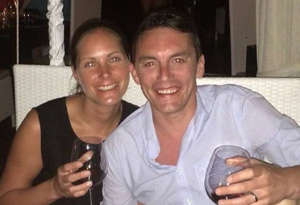 Gardai said Mr Dunne's body was discovered near the couple's hired boat at around 2pm.
Alexandra's remains were found a short distance away two hours later.
The Garda Sub Aqua Unit and the Civil Defence were involved in the search.
The bodies were removed to Sligo University Hospital where a post-mortem will be carried out tomorrow.
The couple were believed to have been visiting family members in Carrick-on-Shannon.
Gardai say the deaths are being treated as accidental.
Local councillor Enda Stenson said a pall of gloom descended over the town following the tragedy.
"There was an event in the sports complex and everybody was in shock.
''The couple had hired the cruiser - and went out for a meal last Wednesday night. They were only a few days into their holiday. Everyone is deeply shocked - it's a terrible tragedy.
"Prayers were said at Mass for them. Your heart goes out to everyone involved.
''With spring in the air, life becomes active on the water as the tourism season kicks into life.
"No one is at fault. It's just a tragic drowning and is so sad.
"It happens all too often. What started out as a happy time for such a young, happily married couple ended tragically."
Councillor Finola Armstrong-McGuire said: "We're very shocked and saddened for such a tragedy to happen in our lovely community and our waters.
"Tragic accidents have happened over the years; the Shannon can be cruel."
Friends have also left a number of touching tributes on Facebook.
"Spoke to Frank at work just the other day... cheerful and easygoing as ever. My heart goes out to you and your family," one said.
"To both families my heart is broken for your losses. RIP to two of the most beautiful, caring, down-for-the-craic pair anyone would ever meet, in great and fond memories," another wrote.
Carrick-on-Shannon is a popular stopping point for people cruising the River Shannon.