Wife praises 'hero' husband who punched shark that mauled her

Evening Standard
22/05/2017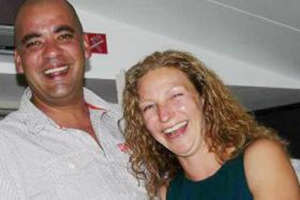 A woman whose husband punched a shark that almost bit her foot off in a terrifying attack has hailed him a 'hero' for saving her life.
Speaking for the first time since the horrific encounter in the South Atlantic, mother-of-two Frankie Gonsalves revealed she needed four operations to save her foot.
The 40-year-old Londoner was snorkelling with her husband Dean when the 9ft Galapagos shark clamped on to her as her children paddled nearby.
Mr Gonsalves reportedly punched the large predator to scare it away near English Bay on Ascension Island, 1,000 miles off west Africa, on April 21.
"I owe my life to Dean. Were it not for his quick thinking, I would have been dragged to my death," his wife, a social worker on St Helena, told the Mail.
"The attack came out of nowhere. One minute I was swimming in clear water, the next I saw a huge mass of grey. Just as I realised it was a massive shark, I felt its jaws clamp on my ankle.
Mrs Gonsalves, who lives with Dean and their children 11-year-old Katie and Louis, seven, in Ealing, said she was in such shock when the shark struck that she didn't feel any pain.
She described how she saw her children crying as they desperately tried to swim to shore, which was just 15 yards away.
Mr Gonsalves, who reportedly punched the creature three times, said he remembers how hard it felt, saying: "It was like hitting a metal bar with sandpaper over it."
He said: "Each time I punched its head and it swam off.
After what seemed a long time, but was probably minutes, I felt bystanders drag me out of the water, so exhausted I could barely stand."
After being treated in the local hospital, the family were five days later flown back to Britain where she received surgery at St Mary's Hospital in west London.She said: "Dean is not only my husband, but my hero."