Williams appeals in Craig defamation case

NZ Newswire
28/04/2017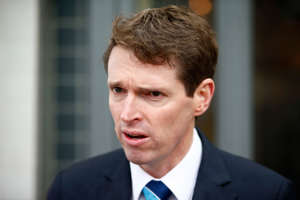 Taxpayers Union founder Jordan Williams is appealing a court decision to set aside the $1.27 million damages award in his defamation case against former Conservative Party leader Colin Craig.
He is opting for an appeal to avoid a retrial.
In September, a High Court jury ordered Mr Craig to pay Mr Williams what is the highest amount of damages in a defamation action in New Zealand for comments in a press conference and a leaflet.
A fortnight ago, Justice Sarah Katz ruled the sum was outside the range that could reasonably have been justified in the circumstances and said a miscarriage of justice had occurred.
She ordered both parties to file memoranda by Wednesday advising whether they consented to the court substituting its own award of damages for the jury's.
If confirmation that both parties consented was not received, then the jury's verdicts would be set aside and proceedings set down for a retrial.
Mr Craig said after the deadline expired that he hadn't filed a memorandum with the court, so there wasn't going to be a consented judgment.
On Friday, Mr Williams released a statement saying his lawyers are appealing the judgment setting aside last year's jury verdict.
"Colin Craig argued that the jury's damages award was too high. The judge agreed but the High Court is only able to reset the damages if both parties agree," Mr Williams said.
"I don't want Rachel MacGregor or my mother or any other of my witnesses to have to go through it all again. The jury made clear findings. At every stage Mr Craig has wanted to stretch things out. We have no assurance he would not appeal after a new trial.
"So an appeal now could get to the key issues directly. It is the best way forward."