Williams says sevens has rejuvenated him

NZ Newswire
1/06/2016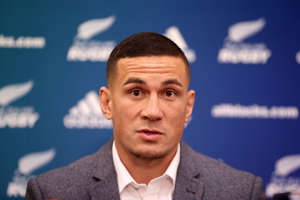 Sonny Bill Williams says sevens rugby has rejuvenated him mentally and got him in his best physical shape for some time.
The 33-Test back, who has recommitted to New Zealand Rugby through to the 2019 World Cup, is sitting out Super Rugby this season to chase his dream of making the Rio Olympics.
"I feel like sevens has given me a new lease of life," he said.
"Mentally I feel really refreshed. Besides picking up a couple of niggling injuries the last couple of tournaments, I feel physically I'm in the best shape I've been for a long time."
While Sir Gordon Tietjens' intense training sessions are legendary, the 30-year-old Williams says he's loving the daily grind.
"Playing sevens this year has really rejuvenated me because I've been able to push my body to places I never thought I could," he said.
Williams is expected to rejoin the All Blacks for the Rugby Championship after the Olympics in August and he will play for the Blues in next season's Super Rugby.
His NZR contract allows him to continue in sevens and to pursue his boxing career during the off-season.
He said the two sports were similar in the benefits he was able to transfer into 15-a-side rugby.
"Physically, I feel I can take on the world, so I've got the option to play some sevens or have a boxing bout in the off-season to get me right for 15s," he said.
Williams appeared in six of the 10 tournaments in the latest sevens world series.
The circuit ended in London in May, with New Zealand finishing third behind champions Fiji and runners-up South Africa, but Williams believed the All Blacks Sevens had the goods to claim gold in Rio.
"It's just about getting fit, getting experience and getting all the boys back on the field together," he said.
"Once we do that, I'm really confident with the squad that gets pick that they can go all the way, but there's a lot of hard work to be done before that."