Winners and Losers of 2016

NZ Newswire
29/12/2016
THE WINNERS AND LOSERS IN NZ IN 2016
WINNERS
JOHN KEY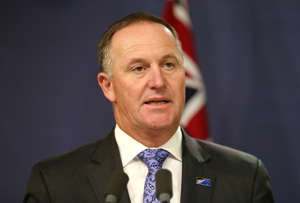 © AAP Image/David Moir John Key It's rare that a prime minister gets to leave office in their own time and on their own terms but John Key has managed that. He shocked parliamentary colleagues and voters in early December by announcing his resignation after eight years in the top job, a decade as party leader and 14 years in politics. He said he never saw himself as a career politician and couldn't stand for re-election in 2017 knowing he couldn't commit to another three years as Prime Minister.
LISA CARRINGTON
The New Zealand Olympic team scored four gold, nine silver and five bronze medals in Rio, more than any previous Olympic Games. But it was an extra special year for Lisa Carrington who became the first Kiwi woman to win two medals at the same Olympics. She won gold in the K-1 200 metre canoeing then two days backed that up with a bronze in the 500 metre event.
RUGBY UNION - ALL BLACKS
They might have been beaten by Ireland for the first time ever, but the All Blacks still earned their place in the winners list by equalling a world record winning streak with 17 tests. They even managed to redeem themselves by beating Ireland in Dublin just two weeks after their Chicago loss. The All Blacks also had convincing wins against Australia in the Bledisloe Cup, their series against Wales and were undefeated in the Rugby Championship.
COMPENSATION PAYOUTS
Teina Pora and David Bain both got sizeable payouts this year for time spent behind bars because of wrongful convictions. Mr Pora was granted a $2.5 million compensation payout from the government. He's currently back in court seeking the government pay inflation on top of his payout. Mr Bain was denied a compensation payout but was granted an ex-gratia payment of $925,000 by the government as a means of avoiding further litigation.
LOTTO WINNERS
A young couple from the Hibiscus Coast near Auckland became New Zealand's largest ever lotto winners when their numbers came up in the $44 million draw in November. Just a week earlier the couple had been strugglign to get a mortgage to buy their first home. "As soon as I saw I had all the numbers on one line I just yelled 'holy s***!' - my boss thought I'd chopped my arm off with a saw," the winner said.
LOSERS
TPP NEGOTIATORS
Last year supporters of the Trans-Pacific Partnership made it into the winners list when the trade deal was finally completed in October. But one US Presidential election later and it's dead in the water after a decade of discussions and agreements. Just days after the US voted for Donald Trump as their next president the New Zealand Parliament passed enabling legislation for the TPP. But any hope that the 12-nation agreement would come into fruition was destroyed by a video in which President-elect Trump revealed he would block the TPP on his first day in office.
HAVELOCK NORTH
August was a rough month for the people of Havelock North. More than 5000 people fell ill with gastro after water became contaminated with campylobacter bacteria. Schools and businesses were forced to close, uncontaminated water had to be trucked in and the Hawke's Bay District Health Board was left with a $380,000 bill as a result of staff sickness and the cost of treating people in intensive care.
RUGBY LEAGUE - WARRIORS AND KIWIS
Kiwis excel at Rugby Union. League is a different story as the Warriors and Kiwis have shown again this year. The Kiwis lost all four tests against Australia, including the World Cup final in Liverpool in November. Meanwhile the Warriors, who are one of only two teams in the NRL not to have won a premiership, came 10th in this year's competition with just 10 wins to 14 losses.
FIRST HOMEBUYERS
It was great news for investors when Auckland's average house prices tipped over $1m but it had first homebuyers everywhere giving up on their home ownership dreams. Bringing the Kiwi dream back to reality is an issue that's not going anywhere soon, and is likely to dominate next year's general election campaign.
HELEN CLARK
Former prime minister Helen Clark was always going to be a long shot at becoming the next United Nations Secretary-General. She didn't meet the criteria of veto country Russia, in that she wasn't from eastern Europe and despite the global push toward gender balance this year proved too soon for a woman to be chosen as the next UN leader. Former Portugese prime minister Antonio Guterres came out on top, with Ms Clark ranking fifth in the end.