Winston goes over the top

NZ Newswire
5/05/2016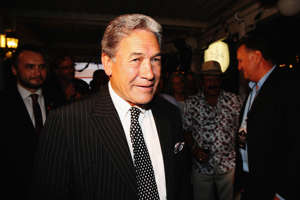 Winston Peters was way over the top with his threat to recall "unsuitable" diplomats from their posts.
He's a master of bombastic rhetoric, but this pushed the limit.
Foreign Minister Murray McCully, a master of understatement, said he was "bemused" by the NZ First leader's comments.
This is what Peters said in his guest lecture at Victoria University on Wednesday:
"Year after year, run down politicians have been given reward for, in some cases, the most dubious services by sending them offshore.
"This is not to say that some of the people we have sent offshore haven't been the best choice, or not done excellent service, but some have not been the wisest choice."
No problems with that, but here's the punchline:
"We wish to make it clear today that if any future political appointments are made, which we regard as unsuitable, then upon gaining the political balance of power, we would correct such unwise choices by ordering that appointee to return home, and thereby hand the job to someone capable of doing it properly."
Recalling a high commissioner or an ambassador on the say so of a politician would be a very serious move, it could have repercussions within the host country and it would cause an uproar at home.
Any government would be extremely reluctant to do it, and the only way Peters might be able to achieve it would be to insist on it being a condition of a coalition or support agreement.
Does he really think it's that important? Perhaps not, and maybe he didn't mean it to be taken too seriously.
But it was taken seriously, and it was interpreted in some quarters as a veiled attack on parliament's Speaker, David Carter.
It was also interpreted as a veiled warning to National that if it appointed Carter as High Commissioner to London before the next election, there would be trouble after it.
Peters and Carter frequently clash in parliament and their fraught relationship goes back to 2006, when Peters was foreign minister and attempted to sue Carter for alleged defamation.
Speaking after delivering his lecture, Peters denied he was targeting Carter.
"We don't personalise these things, I'm just saying that we're not going to tolerate these sort of disgraceful appointments when they don't merit it," he said.
The veiled threat story fell apart when Carter came round parliament's press gallery on Thursday, personally delivering a media statement and telling NZ Newswire he didn't know why anyone thought he was in line for the London posting anyway.
"It has never been my interest or intention to become New Zealand's High Commissioner in London," he said in his statement.
"I am honoured to be Speaker of the House of Representatives. I enjoy the role and intend to carry on with that role as long as I have the confidence of the House."
A couple of hours later, McCully told reporters about 20 head of mission positions were being considered and Carter's name didn't feature in any of them.
"We have someone in prospect for London, who is not a member of parliament," he said.
McCully may have been "bemused" because New Zealand has 57 heads of foreign missions and at the moment only two former politicians hold permanent positions - Sir Lockwood Smith in London and Tim Groser in Washington.
Recently, Jim McClay was appointed acting consul in Honolulu.
Sir Lockwood, who is due to end his term early next year, is a former Speaker and that may be why Carter was being tipped to succeed him.
However, setting all that aside there's a good reasons why Peters is being taken seriously these day.
He has to be.
NZ First is now well past the point where it might or might not get the threshold five per cent of the vote in an election.
Peters has driven it up to a point where the party is consistently polling above 10 per cent and he holds a seat in his own right - Northland, seized from National in a by-election.
National will be shooting for a fourth term next year and most polls indicate it's going to need more than its current support partners to achieve it.
If that happens, John Key will have only one party to turn to - NZ First.