Woman opens 'McDonald's Sausage McMuffin' and finds something repulsive-looking inside

Mirror
25/11/2016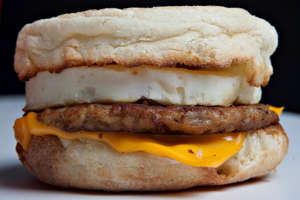 © Bloomberg A woman claims she found a lump of blue, stringy goo in her McDonald's sausage and egg McMuffin. 

She uploaded a video showing the matter which she alleges she spotted in her breakfast burger after taking several bites.
In the clip, the woman pokes at the object as she tries to identify what it is.
A man's voice can be heard saying "that ain't normal" as she responds with "no, that's not normal".
She breaks apart the meat and clumps of what looks like a blue material falls off in her hands as she picks through the food.
The woman claims the burger was bought from McDonald's, but this has not been confirmed.
The video was uploaded online and has already had more than 36,000 views.
McDonald's has been contacted for comment.