Women more apt to 'electronic multi-task'

NZ Newswire
28/09/2016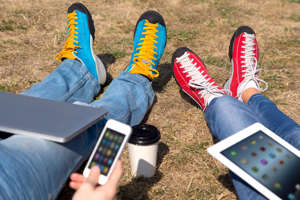 New Zealand women are more likely than men to multi-task with electronic devices, such as using a smart phone while watching TV, according to a communications survey.
About 59 per cent of female respondents said they were more likely to use more than one device at a time, compared with 47 per cent of men.
Results from the Canstar Blue poll also show that younger people and Wellingtonians are more apt to "electronic multi-task".
Canstar Blue NZ general manager Jose George says the results indicate how entrenched electronic devices are in everyday life.
"We have so many different devices available to us these days," he said.
"It's not unusual for us to be texting or messaging friends while watching TV or streaming to your PC."
LIKELY TO ELECTRONIC MULTI-TASK (in percentages)
Women 59, men 47.
Generation Y 64, Generation X 59, Baby Boomers 32.
Top three regions: Wellington 61, Bay of Plenty 59, Hawke's Bay 58. Least likely: Manawatu-Whanganui 43.