Wood continues goal-scoring blitz

NZ Newswire
3/03/2017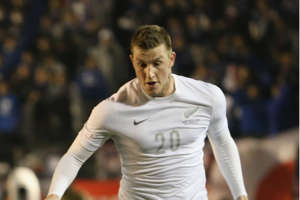 All Whites striker Chris Wood has continued his goal-scoring blitz for Leeds United, scoring twice in their 3-1 win away to Birmingham.
The 25-year-old centre forward's cool finish in the 14th minute came against the run of play as fourth-placed Leeds initially battled for traction.
Birmingham equalised in the 63rd minute, but Wood responded with his second, four minutes later, to restore the lead, with Alfonza Pedraza adding a third in the 81st minute.
Wood said confidence was riding high throughout the team.
"We ground it out in the first half and got the goals in second.
"The team is working so hard off the pitch to make sure it's right on the pitch."
The win moves Leeds to within one point of third-placed Huddersfield on the Championship ladder.
Wood has scored 22 league goals and 25 across all competitions this season, and leads the English Championship goal-scoring list, two ahead of second-placed Newcastle striker Dwight Gayle.