Wood to miss Nations Cup final

NZ Newswire
9/06/2016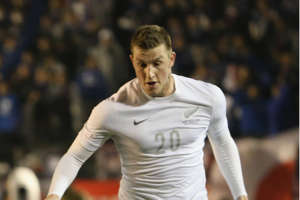 All Whites captain Chris Wood will miss Saturday's Nations Cup final against Papua New Guinea in Port Moresby, instead attending his sister's wedding in New Zealand.
The 24-year-old had made arrangements to attend the wedding some 12 months earlier, aligned to the international dates available at that time.
"I'm gutted I won't be able to take part in the final but my sister's wedding is something I've looked forward to for a very long time, and it's something that is very important to me," he said.
"My family is the most important thing in my life, and to be there is a massive thing for me."
The Leeds United striker has been in constant communication with All Whites coach Anthony Hudson throughout his decision-making process.
Hudson said he selected Wood believing he would play a key role in helping the All Whites reach the final, and the skipper had done just that.
Wood top-scored with four goals as the All Whites made their first Nations Cup final since 2002.
"It's unfortunate, he's the captain and is an incredibly important player for us," Hudson said.
"It was an ongoing discussion, he came to me a long time ago but as you get nearer to a tournament you want to try to see if there are any other options.
"You think maybe Chris will come in and, with more discussions, you might be able to sway him the other way.
"But once I'd heard it from his mouth, and seen in his face what it meant to him, it was no problem with me."
Hudson said Wood's commitment in playing with a painful shoulder injury to help the team make the final showed how much the All Whites meant to him.
"The team were vocal in saying they want to win this tournament for him, showing how much they value their captain and that they are fully behind him."