Work starts on 19km Bay of Plenty cycleway

NZ Newswire
5/08/2016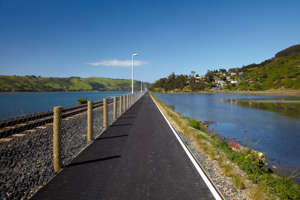 © Danita Delimont/Gallo Images/Getty Images West Harbor Cycleway at St Leonard's, near Port Chalmers, Dunedin, Otago, South Island, New Zealand Work has started on a $7.7 million, 19km cycleway that will link Tauranga and Omokoroa in western Bay of Plenty.
Transport Minister Simon Bridges says it will include a bridge over the Wairoa River, providing an alternative route to State Highway 2.
It's expected to be completed in June 2018.
Mr Bridges says over the next three years about $15m will be put into cycling projects in western Bay of Plenty and they'll become integral to the area's transport network.