Working solo parents trims welfare cost

NZ Newswire
17/05/2017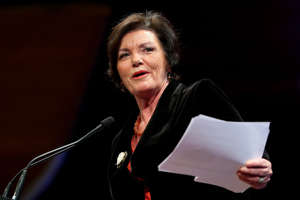 © Hagen Hopkins/Getty Images Social Development Minister Anne Tolley An increase in the number of sole parents shifting into work from a benefit is behind the bulk of a $1.7 billion reduction in the theoretical long-term cost of New Zealand's welfare bill, the latest actuarial valuation shows.
The annual valuation puts the long-term liability at $76b as at June 30, 2016, with 547,538 people collecting a benefit at the valuation date at an average 7.7 future years on main benefits.
That headline liability was $7.6b higher than the year-earlier valuation of $69.8b, when 559,392 people were on a benefit with an average 8 future years on main benefits.
Of that, low inflation and the accompanying flat interest rate track accounted for $7.2b of the increased liability and a further $1.5b is from the government's increase to benefit rates announced in the 2015 budget.
That offset the gains from the Ministry of Social Development's programs under its control to reduce the welfare bill.
The number collecting sole parent benefits dropped to 67,732 in the 2016 financial year from 71,750 a year earlier.
"With the number of sole parents on a benefit decreasing 32 per cent since 2012 and nearly 60,000 fewer children living in benefit dependent households than in 2011, it's clear this investment is helping break the cycle of inter-generational welfare dependence," Social Development Minister Anne Tolley said in a statement.
"Supporting these two groups has been a priority for us because we know helping them off benefits will transform their and their families' lives."
Government data show the unemployment rate fell to 4.9 per cent in the first three months of this year as firms continued to create jobs at a faster pace than population growth.
Earlier this month, Prime Minister Bill English flagged $321 million of new spending on social investment programmes and updated the government's 10 Better Public Service policy targets, an area that's been mooted as one of four key planks to next week's budget.
Finance Minister Steven Joyce on Wednesday announced the government's response to a 2015 Productivity Commission report on 'More Effective Social Services', which recommended a move to 'client-based' funding of social services backed by the investment approach.