Xapo Now Offers The First Credit Card Linked To Your Bitcoin Wallet

TechCrunch
24/04/2014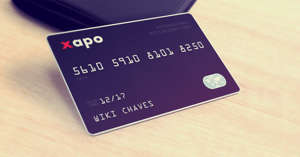 Bitcoin vault  the made news after launching an insured, secure repository for big BTC investors. The service, which has gone so far as to bury paper bitcoin keys in underground vaults, has become a big finance darling. Now it's going after the average user by offering MasterCard credit cards directly linked to a Xapo bitcoin wallet.
"Most of our customers keep 90% of their bitcoin in our vault and 10% in their wallet," said Wences Casares. The addition of card access to these wallets will allow that 10 percent to be instantly transferred to cash.
Users of the free wallet will receive a free credit card number complete with expiration date that they can use to pay online. For $15 they can request a physical card with magstripe that is usable at any store that accepts MasterCard. PIN and chip cards will be available in Europe.
When used, the card payment system pings an associated Xapo wallet. Xapo checks for sufficient funds and then uses Bitstamp to sell the bitcoin for fiat currency to pay the vendor. Vendors pay regular credit card fees while the customer pays no fee.
The service doesn't allow for ATM withdrawals – yet. Cesares expects that functionality to come soon.
"We were surprised with the reaction in the market," said Cesares. "When we started Xapo a wall of coins came our way. It's was a really positive reaction."
Cesares explained that the credit card service is for the majority of bitcoin users who have bought a little BTC just to try it and may be holding it and for users who can't or don't want to deal with an exchange. "This isn't for the bitcoin fanatics. It's for my grandma," he said.
He said that Xapo would never become an exchange. Instead, they are focusing on their core competency: bitcoin storage. Users who want to try the new credit card service can simply open a .
"We've seen credit card solutions proposed before, the player and the partners mean a lot because its easy to talk and hard to execute," said Adam B. Levine, Editor-in-Chief of the . "Technically this is simple, it's the permission and banking relationships that are complex. Xapo is ambitious and can execute."
"If you have to spend dollars instead of bitcoins, you might want to sometimes sell your bitcoins for dollars, but when you can spend bitcoins anywhere you can use your credit card the mental math is very different. This solution and the ones that come after it are huge news," he said.
While excited for the future of bitcoin, Cesares is still very cautious about changing and improving his company's offerings. "Everybody is speculating that something major is going to happen with bitcoin adoption in 2014," he said. "I disagree. The same thing that happened in the last three years will keep happening. We're going to gradually get to mass adoption but it will take some time."
Hopefully this move to real world bitcoin interaction via credit cards is a step in that direction.