Bali Nine pair Andrew Chan and Myuran Sukumaran denied spiritual support before executions

ABC News
28/04/2015
Australian drug smugglers Andrew Chan and Myuran Sukumaran have been denied their right to spiritual support in the final moments before their executions.
Indonesian law stipulates that where the death penalty is applied, condemned prisoners are allowed a religious counsellor in the final moments before they are shot by firing squad.
It is their only support in the last moments of life and the religious cleric of their choosing can also witness the death penalty being carried out.
But the ABC has been told that that has been denied to Chan and Sukumaran, who are expected to face the firing squad early tomorrow morning.
The two pastors nominated by the drug smugglers to be their final support were denied access to their island prison today.
The 72-hour notification period for Australian pair and seven other death row criminals expires at midnight tonight, prompting fears their executions are imminent.
group of family and friends who embarked at Cilacap for the first trip to the Nusakambangan prison island today were mobbed by media, with Sukumaran's sister needing to be carried through as photographers pressed in.
An ambulance carrying nine coffins arrived at the ferry terminal shortly afterwards for the short trip to the island.
Family members returned from visiting the pair today with more paintings done by Sukumaran.
One of them depicted a heart with an inscription on the back that read: "Satu hati, satu rasa di dalam cinta." (One heart, one feeling in love.)
It had been signed by all nine prisoners on death row.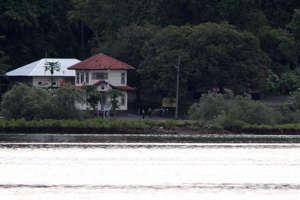 Brandis appeals for stay until court case is heard
Attorney-General George Brandis has appealed to his Indonesian counterpart to stay the executions until proceedings underway in the country's Constitutional Court and Judicial Commission have been completed.
A preliminary hearing of the Constitutional Court has been scheduled for May 12, which Senator Brandis said is relevant to the cases of Chan and Sukumaran.
"On 25 April 2015, I wrote again to Indonesian attorney-general Prasetyo regarding the cases of the two Australian men facing the death penalty, Andrew Chan and Myuran Sukumaran," Senator Brandis said in a media statement.
"This was the third occasion on which I have appealed to the Indonesian attorney-general.
"I also understand that the Judicial Commission intends to interview the two men in relation to its investigation into bribery allegations in the original trial.
"Respectfully, the Australian Government calls on the president and attorney-general of Indonesia to stay the executions until the Constitutional Court and Judicial Commission proceedings are completed.
"It would be a terrible outcome if rulings or findings in either of these proceedings called into question executions which have already been implemented and are irrevocable."
A lawyer for two men, Peter Morrissey, said the investigation would only be useful if Chan and Sukumaran were able to take part.
"They'd better not be dead if Indonesia's got the rule of law," Mr Morrissey said.
"You don't kill the prisoners while there's still a court case that could affect their lives.
"So we're very much hoping they'll see sense about that."
A vigil for Chan and Sukumaran is to be held in Sydney's Martin Place tonight.
Mercy Campaign co-founder Brigid Delaney said many of their supporters are very upset.
"People want to come together, there's a lot of very distressed people who've been long-term supporters of the campaign and the guys and I think to be together on a night like this is very important," she said.
Chan marries as preparation for executions are finalised
Yesterday Chan married fiancee Febyanti Herewila in a ceremony on Nusakambangan.
Michael Chan said his brother had been celebrating on Monday night with his new wife.
"They have had a celebration inside the prison this afternoon, with close family and friends," he said.
"It was an enjoyable moment. We would just like to celebrate that with him tomorrow as well.
"It's tough times, but happy times at the same time.
"So hopefully the president will still show some compassion, some mercy so these two young people can carry on with their lives."
On Monday, Sukumaran again indicated he expected to face the firing squad within days, signing another self-portrait with a telling inscription.
The back of the portrait bears Sukumaran's signature, the date and the words: "'The second last day' Myuran Sukumaran, Besi Prison, Nusakambangan."
"I fear that on Wednesday morning they will be executed," Foreign Minister Julie Bishop said.
"Indonesia has accomplished what penal systems around the world aspire to do, and that is rehabilitate drug offenders.
"I'm not asking the Indonesian government to do anything other than it asks other countries in relation to Indonesian citizens who face death row overseas, including for serious drug offences."
Greens leader Christine Milne said Indonesia's international standing would be affected if it went ahead with the executions.
"It's going to be a very testing time, but the appeal I would have with President Widodo is that Indonesia's standing in the world will fall if they go ahead with these executions," she said.