Dinner with David Cameron in Shanghai advertised for £12,000

The Independent
12/01/2018
© Provided by Independent Digital News & Media Limited Chinese business leaders are being offered the chance to have dinner with David Cameron — as long as they stump up the trifling sum of £12,000.
Those willing to hand over the readies will also have the chance to pose for a photograph with the former Conservative leader, according to reports.
Mr Cameron is in China and was reportedly set to meet the communist state's president, Xi Jinping, on Thursday.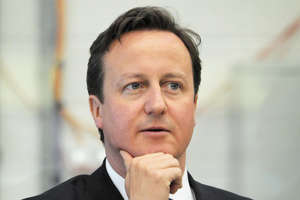 © Provided by Press Association 'We must never, ever forget what happened at Srebrenica,' said Prime Minister David Cameron Adverts for the Shanghai International Ball and Leaders' Forum featured a photograph of the former prime minister alongside a price in Chinese renminbi.
Fancy meeting @David_Cameron to talk about that new #China UK investment fund he's leading? Got £12k for dinner and a pic. He's in shanghai... pic.twitter.com/2tYTPDyCPn

— Robin Brant 白洛宾 (@robindbrant) January 10, 2018
The promotion appeared on social media and was first reported by the BBC's China correspondent, Robin Brant.

Mr Cameron is leading a billion-dollar investment initiative between the UK and China.
The £750m private fund is supported by the British Government, will be used to railways, ports and other facilities.