Fury as Prince Edward takes '£37,000' taxpayer-funded private jet for 133-mile trip between engagements (when the train would have cost £250)

Daily Mail
13/06/2018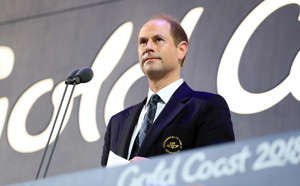 © PA Prince Edward, Earl of Wessex speaks during the Closing Ceremony for the 2018 Commonwealth Games at the Carrara Stadium in the Gold Coast, Australia. Prince Edward was last night slammed for a 'blatant abuse of public money' after taking a private jet costing taxpayers an estimated £37,000 ($70,000) for a 133-mile journey between engagements.
The Queen's youngest son, 54, travelled between Poole in Dorset and Tamworth, Staffordshire, to attend an event yesterday marking the death 1,100 years ago of Anglo-Saxon ruler Aethelflaed.
The normal hire cost of the plane to do the journey between airports in Dorset and Birmingham would be £37,150 for a one-way trip. A first-class train ticket would have cost around £250-per-person.
Last night Graham Smith from anti-monarchy campaign group Republic blasted The Earl of Wessex's 'extravagance' with public funds.

He told MailOnline: 'This is a blatant abuse of public money. If that were an MP they'd be in serious hot water.
'We need to look more seriously at the extravagance of the royals. He should be taking public transport or cars at a fraction of the cost.' 
Edward's exact itinerary was not made clear by Palace officials who did not disclose where he started and ended the day yesterday.
He was in Windsor on Monday and was pictured landing in Birmingham yesterday lunchtime. He has engagements in Poole, Dorset, today. 
An anytime first class ticket between Poole and Tamworth would have set the royal back just £254 - 0.7 per cent of the estimated private jet fare between the two destinations.
Speaking to the MailOnline a palace spokesperson said: 'The Earl of Wessex is undertaking a three-day programme of events, including a national service of commemoration, and engagements in support of the DofE.
'As ever, security, effective use of time, and the need to minimise disruption to others is taken into account when decisions are taken about transport.' 
The three-day programme will be focussed on Dorset, with Prince Edward visiting Sunseeker International, a luxury yacht company, this afternoon, before attending dinner at Brownsea Castle.
Tomorrow he will visit Canford School in Wimborne, and on Thursday he will visit the Canford Real Tennis and Squash Club.
Prince Edward completed 285 royal engagements in 2017, meaning he was the fifth busiest royal. The royals undertook 3,609 engagements in total.
Edward missed Trooping the Colour on Saturday after returning from a visit to Hong Kong on the same day.
However, his wife Sophie, the Countess of Wessex, and daughter Lady Louise, 14, both attended the traditional parade marking the Queen's birthday.
Edward's medals could be seen on display as he was driven from the airport to the service yesterday.
He was attending a service at Tamworth's at St Editha's Church to mark the 1,100th anniversary of the death of Aethelflaed, who ruled the ancient kingdom of Mercia for seven years from the year 911 until her death.
She was the eldest daughter of Alfred the Great, who was King of the Anglo-Saxon kingdom of Wessex.  
A number of events have been held to commemorate Aethelflaed's death, including a funeral procession through Gloucester earlier this week. 
Edward has had a busy start to the month, spending four days in China and Hong Kong last week.
He arrived in Beijing last Tuesday, where he conducted a series of engagements, including attending a reception for The Duke of Edinburgh's Award.  
The Earl went on to Shanghai last Wednesday, where he visited a school, before going on to Hong Kong.
Edward arrived back in London on Saturday morning, which is why he did not attend Trooping the Colour with the rest of the royal family. 
However, he was present at Prince Harry and Meghan's wedding at Windsor Castle in May, along with wife Sophie and children Lady Louise and James Viscount Severn, 10.
Edward's wife Sophie has also been busy in the past week, meeting patients at Leeds Children's Hospital yesterday.
The Countess of Wessex later attended a charity reception and dinner at Harewood House.