Hurricane Max churns toward Mexico's touristy Pacific coast

Reuters
14/09/2017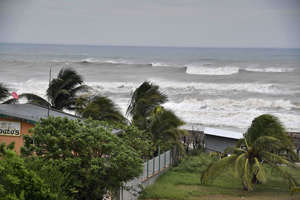 © AFP Photo Strong winds hit palm trees before the arrival of hurricane Katia in Mexico on September 8, 2017. Max became a Category 1 hurricane on Thursday, the U.S. National Hurricane Center (NHC) said, moving toward Mexico's tourist-heavy Pacific coast and bearing down on a region that includes resorts like Acapulco, Zihuatanejo and Ixtapa.
The storm brought maximum sustained winds of 75 miles per hour (120 kmh) on Thursday morning and was about 55 miles (88 km) southwest of Acapulco, the center said, adding it was moving east at 6 miles per hour (10 kmh).
"An east or east-northeast motion is expected to continue until Max moves inland along the southwestern coast of Mexico later today," the NHC said.
Max could strengthen before reaching the coast but would likely weaken once it hit land, the NHC said.
In the state of Guerrero, home to some of Mexico's major tourist resorts, Max could dump as much as 10 inches (25 cm) of rain, the NHC said.
The storm is bad news for Acapulco, which is already struggling with endemic gang violence. Although it is not peak season, many tourists were likely to travel there to celebrate Mexico's Independence Day celebrations at the weekend.
Max arrives a week after a powerful 8.1 magnitude quake shook southern Mexico, destroying buildings in the state of Oaxaca and killing at least 98 people nationwide.