Tea shop owners had 'no idea' they were painting over a BANKSY mural until they were half-way through

Mirror
14/09/2018
© BristolLive Jo Xie and Tommy Yuen had no idea that they had painted over the artwork across their new shop A couple were shocked to discover they had accidentally painted over an early Banksy piece on their shop in Bristol. 
Jo Xie and Tommy Yuen had bought an old skate shop to transform into a tea shop and had decided to give the shutters a lick of fresh paint.
The decorators were half-way through covering the graffiti when a man came running over with tears in his eyes.
Mr Hamada, who was hired to fit out the new tea shop told BristolLive: "I came back saw a guy was standing there – he was really upset, like he was crying a bit.
He said: "I came up to him and I said 'what's up? Did I do something wrong?'
"He told me it was by a famous artist, so I stopped everything and told the landlord."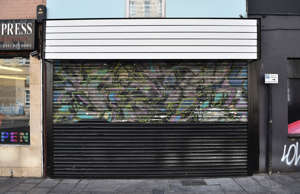 © Ben Birchall/PA Wire/PA Images A Banksy mural on the shopfront shutters on Park Row, Bristol has been accidentally painted over in black by the new owners of the shop during renovations. At this point the bottom half of the mural, created without the use of his iconic stencils, had been erased. The piece is thought to date back to the late 80s and early 90s.
Tommy, who had no idea that he'd purchased work by a world-famous artist along with the shop, said: "We didn't know. As soon as we found out we thought 'Oh no! We'd better keep it.'
"I actually didn't believe it at first. I've lived in Bristol my whole life and I didn't know this was a Banksy," he said.
Banksy enthusiast Simon Whiteway posted a picture of the half-painted over mural on his Facebook saying: "One of Banksy's original freehand murals on a shutter, circa 1999. Now getting painted over today."
Alongside was a picture of the store from 2014 back when it was the Rollermania skate shop, with owners Tony and Louise Coffey outside.
"Tony told me Banksy used to come in and offer him original artwork in exchange for a few Stussy t-shirts, Tony refused," Simon wrote.
"Hindsight is a wonderful thing."
Bristol graffiti artist Inkie, who grew up tagging the city streets with the likes of Banksy, 3D and FLX confirmed it was the work of his fellow artist – but called this particular piece "pretty ugly".
"Not one of his better works... this shutter was first painted by 3D in the late 80's then by myself and FLX in the early nineties," he said.
"I can confirm it was painted by Banksy as he painted over the one I did with FLX before it he did a pretty ugly job too."
The shop's new owner, Jo said: "It certainly doesn't look like most of his other work".
She also made an offer which should prove irresistible to any Bristol graffiti artist, you can now have your work appear alongside a genuine Banksy.
Jo said: "If anyone wants to contact us and come and fill in the bottom half that would be great."
Pictures: The incredible street art of Banksy