Two Australians among 150 victims of Airbus A320 crash, which included 16 school children

ABC News
24/03/2015
Two Australians are among 150 people killed in a Germanwings aeroplane crash in the French Alps, Foreign Minister Julie Bishop has said.
Ms Bishop said a woman and her adult son from Victoria were on flight 4U 9525 from Barcelona to Duesseldorf, which went down with 144 passengers and six crew on board.
Grieving relatives of passengers gathered at Barcelona and Duesseldorf airports as officials announced none of the 150 people on board survived.
Several dozen relatives, some crying and shaking their heads, arrived at Barcelona's El Prat airport after news the flight, which took off in the morning for Duesseldorf, had crashed.
Police at the remote crash site in south-eastern France said everyone on board was killed when the Airbus 320 operated by Lufthansa's budget carrier Germanwings went down.
© AFP Photo/Denis Bois/Gripmedia/AFP TV Debris of the Germanwings Airbus A320 at the crash site in the French Alps above the southeastern town of Seyne. The airline's managing director Thomas Winkelmann said routine maintenance of the aircraft had been carried out the day before, and said the company would work closely with investigators.
With the cause of the accident a mystery, authorities have recovered a black box from the Airbus A320 at the crash site, where rescue efforts were being hampered by the mountainous terrain.
Local MP Christophe Castaner, who flew over the site, said on Twitter: "Horrendous images in this mountain scenery. Nothing is left but debris and bodies.
"A horror - the plane is totally destroyed."
A senior airline official said they were working on the assumption the crash was an accident.
"For the time being, we say it's an accident, anything else would be speculation," Lufthansa vice president for sales and services in Europe, Heike Birlenbach, said.
It is believed 67 German and 45 Spanish nationals were on board the flight, including two babies.
Also believed to be among the victims were 16 children and two teachers from the Joseph-Koenig-Gymnasium high school in the town of Haltern am See in north-west Germany, a spokeswoman said.
Local mayor of Llinars de Valles, a town north of Barcelona, Marti Pujol, said pupils were in shock at a local high school where 16 of the passengers on the plane had just attended an exchange program.
"We have the Red Cross and psychologists there. The teachers were in the school and are looking after the children. This affects the whole school, which has more than 400 pupils," Mr Pujol said.
He said the children were aged about 15. It was a reciprocal visit after 12 Spanish students had spent a week at their school in December.
_______________________________________________________________
READ MORE 
16 children from same school on jet
Plane crash at cruising altitude rare, aviation expert says

______________________________________________________________
Students and teachers at the Haltern am See high school broke down in tears once they realised their classmates and teachers were on board the ill-fated flight.
"The students were informed that there was a sufficient probability that the plane would not be landing in Duesseldorf," Haltern am See mayor Bodo Klimpel said.
"Classes were then called off."
The students were sent home but many returned in the afternoon with candles in their hands and tears in their eyes to mourn with each other at the school.
Mr Klimpel said some parents drove to the airport and some to the school.
"It's the darkest day in this town's history," Mr Klimpel said.
"We're in a state of shock. It's the worst thing ever imaginable."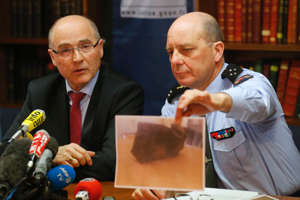 Crisis cells set up to support relatives
Spanish prime minister Mariano Rajoy said he had set up a crisis cell to deal with the disaster, calling it "tragic and sad news", and that he would visit the scene on Wednesday.
In Barcelona three couples and four men, visibly shaken, were among those who arrived at El Prat airport and were taken to a room set up for them by police officers, who kept journalists at bay.
Two German consular officials in bright yellow vests were ushered through by police to join the grieving families.
Psychologists and social workers were attending to the families at Barcelona airport, Red Cross spokeswoman Irene Peiro said.
"When they are told the news they have grief and trauma and we try to minimise as much as possible these traumatic, anxious and uncertain moments," she said.
At Duesseldorf airport, relatives of the passengers were ushered by airline staff out of the way of waiting reporters.
A group of police stood guard around the Lufthansa Germanwings stand but Lufthansa check-in desks were operating normally.
French prime minister Manuel Valls said he had also called an inter-ministerial crisis cell.
"We don't know the reasons for the crash, we clearly fear that the 150 passengers and personnel have been killed considering the circumstances of the crash," Mr Valls said.
"All is being done to understand what happened and to help the families of the victims," he said.
Opera singer among passengers, narrow miss for footballers
Opera singer Oleg Bryjak was among the 150 people killed when a Germanwings jet crashed in the French Alps Tuesday, the opera house in Duesseldorf said.
The 54-year-old bass-baritone had just performed the character Alberich in Richard Wagner's "Siegfried" at Barcelona's Gran Teatre del Liceu.
"We have lost a great artist and a great man ... We are shocked," said Christoph Meyer, general director of the opera house.
Bryjak was born in Kazakhstan in the former Soviet Union and had performed on opera stages including in Paris, Zurich, London, Los Angeles, Chicago, Vienna, Berlin, Munich, Sao Paolo and Tokyo, according to his website.
Meanwhile, a Swedish third-division football team booked on the doomed flight escaped death by changing flights at the last minute, the team said.
The Dalkurd FF team from Borlaenge, in central Sweden, was booked to fly home to Sweden on the budget carrier after a trip to Catalonia.
Sporting director Adil Kizil told daily Aftonbladet the team had a very close call.
"We were supposed to be on that plan," Mr Kizil said.
"There were four planes that left around the same time and that flew north over the Alps. Four planes and we had players on three of them. You can say we were very, very lucky," he said.
No Mayday call sent
French civil aviation authorities said they lost contact with the plane and declared it was in distress at 10:30am (8:30pm AEDT).
"The crew did not send a Mayday. It was air traffic control that decided to declare the plane was in distress because there was no contact with the crew," an official said.
US president Barack Obama offered the United States' condolences to both countries following the crash.
"It's heartbreaking because it apparently includes the loss of so many children, some of them infants," Mr Obama said, adding that he had called Germany's chancellor Angela Merkel and would call Spain's prime minister Mariano Rajoy.
"Our teams are in close contact, and we're working to confirm how many Americans may have been on board. Germany and Spain are among our strongest allies in the world."
- ABC/Wires