Top NZ clubs on OFC collision course

NZ Newswire
20/03/2017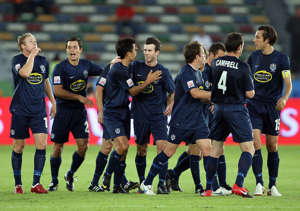 It's deja vu for Auckland City FC and Team Wellington, who have drawn the same opponents as last year in the semi-finals of the OFC Champions League.
New Zealand's best domestic clubs avoided each other in a draw which could set up the same all-Kiwi final as 2016, which the Auckland outfit won.
Their pathway is identical to a year ago, with Auckland City FC drawn against Tahiti club AS Tefana while Team Wellington must once again negotiate the challenge of New Caledonia's AS Magenta.
Last year the Aucklanders prevailed 4-2 in the semi-finals while the Wellington club won their fixture 2-0.
Auckland City FC went on to dominate the final 3-0, notching a sixth successive OFC crown and a place once again at the FIFA Club World Cup.
A change to the format this year means the semi-finals are played over two legs.
The first matches are both away legs for the Kiwi clubs, on April 8. The return matches in New Zealand are on April 16.