Adams goes big on the boards in OKC win

Newshub
8/11/2018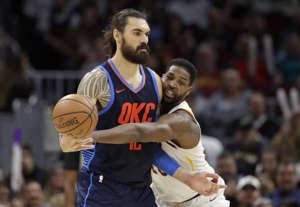 Steven Adams' Oklahoma City Thunder's win streak sits at six after a comfortable 95-86 home win over the Cleveland Cavaliers on Thursday (NZT).
The big Kiwi centre had yet another strong outing, claiming 13 rebounds, two assists and nine points.
The 25-year-old is averaging a double-double this season, and is being touted by some American pundits as a genuine All Star candidate.
Download the Microsoft News app for your Android or iPhone device and stay up-to date on the news you care about most.
The Thunder's win came without the injured Russell Westbrook, who is recovering from a sprained ankle suffered last time out against the New Orleans Pelicans.
Dennis Schroder was outstanding in Westbrook's absence, dropping 29 points, while Paul George was relatively quiet again, scoring 18 points and earning seven boards.
© Provided by MediaWorks NZ Limited OKC lost their first four games of the season, heaping pressure on coach Billy Donavan - but with a record that now sits at 6-4, the Thunder are within reach of the top four in the Western Conference.
Two-time defending champions the Golden State Warriors top the West with the equal-best record in the league, winning 10 of 11 games.
Kawhi Leonard's Toronto Raptors lead the Eastern Conference with the same 10-1 record.