King through to US Open squash semis

NZ Newswire
4 days ago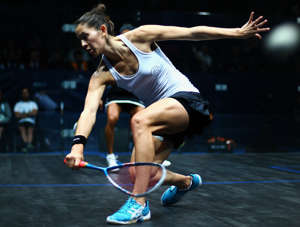 © Paul Gilham/Getty Images Joelle King of New Zealand plays a forehand. Kiwi squash star Joelle King has surged into the semi-finals of the US Open tournament in Philadelphia.
The Waikato-based world No.10 edged out English opponent Alison Waters 11-9 8-11 11-2 11-3 on Friday, proving far too strong in the latter stages.
It's another string in King's impressive US Open bow, having defeated Milou van der Heijden in the first round before knocking out French third seed Camille Sermie in five sets in Wednesday's second-round action.
She had not made the US Open final four since 2013.
"Alison was always going to be tough, we were (ranked) four and five in the world for a while so we had a lot of battles," the 29-year-old King said.
"I tried to fight a bit more in the third, I felt a bit tight in the second and kind of lost my way and fell away from the game I like to play.
"I just tried to come back and played my style, and it worked."
King, seeded 11th, will now face No.2 seed Raneem El Welily of Egypt, who beat fifth-seeded compatriot Nouran Gohar 11-13 11-7 12-10 11-5.
It's El Welily's fourth US Open semi-final in six years.
In the other semi-final, 10th seed Nour El Tayeb will meet English fourth seed Laura Massaro.
El Tayeb scored an upset 13-11 5-11 11-5 11-7 win over world No.1 and fellow Egyptian Nour El Sherbini, while Massaro overcame a slow start to beat Annie Au (Hong Kong) 9-11 11-6 11-8 11-7.