Silver Ferns down but not out: Southby

NZ Newswire
12/10/2017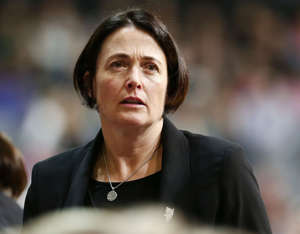 © Anthony Au-Yeung/Getty Images Janine Southby Sloppy execution and too many mindless moments peppered the Silver Ferns' disheartening third Test Constellation Cup loss to Australia, but coach Janine Southby believes the damage isn't irreparable.
The Ferns have now lost each Test to date in the four-match series by ever-increasing margins.
Pipped 57-54 last week in Auckland, they lost match two in Christchurch 60-52 on Sunday then stumbled to a 55-43 loss in Adelaide on Wednesday.
In a hugely inconsistent third Test performance, the Kiwis veered between the sublime and the ridiculous in losing the first quarter 12-10 and the second 18-9, winning the third 15-8 then falling over 17-9 in the fourth.
"In the third quarter we came out and probably had one of the best quarters we've had over the whole season from an attacking and defensive point of view," Southby told NZ Newswire.
"We got a lot of gains and we scored off them, but in the fourth quarter we completely capitulated."
The Kiwis managed to generate a steady supply of turnover ball but struggled to find a quick path through the midcourt and into their shooting circle.
Shooters Bailey Mes (16 from 17), Maria Tutaia (16/20) and Te Paea Selby-Rickit (11/15) were accurate enough with the ball in hand, but never really received the quantity or quality of ball they needed.
"We put a lot of pressure on to get a defensive ball and then we worked really hard to get the ball to a place where we felt we could give ourselves good scoring opportunities," Southby said.
"Then it was just a mindless moment and sloppy execution. Some of that is in our control, and some of that is being able to make sure we absorb the pressure the opposition put on us."
She's confident the Silver Ferns can regroup and deliver an improved performance in the fourth and final Test in Sydney on Saturday.
"We're losing the ball on attack unnecessarily - from our point of view, we know that we're letting ourselves down," Southby said.
"The second big focus for us is being able to match and absorb pressure together as a team.
"There are a lot of contributing factors and none of them is unsolvable. Everything is fixable."