All Black Smith 'could earn seven-figure salary'

Omnisport
17/12/2016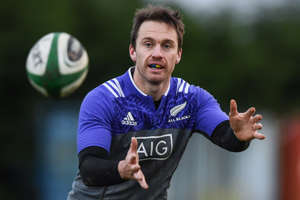 © Getty Images Ben Smith of All Blacks during New Zealand Rugby Squad Training.

Ben Smith could command a similar salary to Dan Carter if he opts to turn his back on New Zealand and move abroad, according to NZ Rugby contracts manager Chris Lendrum.
Smith's contract is due to expire next year and the full-back has been linked with a big-money move to the Top 14, while Munster are also said to be keen to sign the 30-year-old.
All Blacks head coach Steve Hansen this week said it is unlikely that Smith, Aaron Cruden and Israel Dagg will all commit their futures to the world champions.
And Lendrum said NZ Rugby are unable to match the riches on offer to the Highlanders playmaker overseas.
"These are big decisions for them, particularly if you look at Ben's case there's a lot of interest in him. Ben is top of the market place and so the offers for him offshore are very, very strong so it takes a while to work through all of that." he is quoted as saying by stuff.
"As I understand it the range that was in the public domain for Dan Carter at Racing Metro is about right and I don't think Ben Smith would be too shy of that.
"He could be high six or early seven figures in Euros and then there's tax breaks and advantages that come with that so the actual earnings in hand are different from how they might be in New Zealand.
"That's why you see $9 million more in All Blacks retainers because we have to do everything we can to keep players like that."
He added: "We won't match those European figures but Ben can earn handsomely in New Zealand and still prepare adequately for retirement and life after rugby.
"The benefit of him staying is being remembered as a great, long-term All Black who retired here and there aren't that many of the Richie McCaw type figures."