Bowlers letting Pakistan down: Riaz

AAP
3/01/2017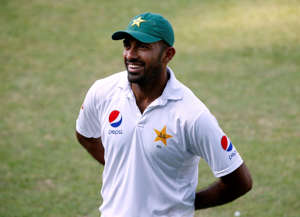 Paceman Wahab Riaz admits Pakistan's bowling unit let the rest of the team down on day one of the third Test against Australia in Sydney.
The tourists face the genuine proposition of a 3-0 series whitewash after their attack was torn to shreds by Australian openers David Warner and Matt Renshaw at the SCG.
Renshaw (167) and fellow recent newcomer Peter Hanscomb (40) will look to post a formidable first innings total when the hosts begin day two on 3-365.
Warner was particularly ruthless in a historic opening session where he pummelled wayward pacemen Mohammed Amir and Imran Khan for bowling too short.
Riaz, who was the only one of Pakistan's frontline bowlers not to give up more than four runs an over, said the attack only had themselves to blame for a sorry opening to the Test.
"Everybody knows Warner is an attacking player and we know where he is strong," Riaz said.
"But as a bowling unit if we keep making those mistakes and making him play on his strong area, then we look foolish. The plans were there, given by the coaches.
"They've been working really hard, but it's the execution of the players and so far our execution is not up to the mark."
Riaz refused to blame an SCG pitch that offered little assistance, insisting that his teammates had plenty of experience dealing with slow pitches in the middle east.
It was only in November that Pakistan claimed a 2-1 series win over the West Indies in the UAE.
"This (wicket) wasn't that much different to those, this was on the slow side. We have bowled a lot there [UAE], we have a lot of experience there," Riaz said.
"But the problem is as a bowling unit, we are not being able to execute our plans properly. It is our own fault, we are not doing it.
"At the end of the day, it is the bowling unit that is not doing good. As a bowling unit we have let our team down really."