Brumbies chairman apologises to fans for saga surrounding Michael Jones' departure

ABC Grandstand
3/05/2016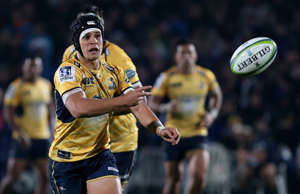 © Dianne Manson/Getty Images Matt Toomua of the Brumbies gets the ball away during the Super Rugby round ten match between the Highlanders and Brumbies at Rugby Park in Invercargill. The chairman of the Brumbies has apologised to members and fans for the saga surrounding the dismissal of former chief executive Michael Jones.
The board had been locked in a fierce legal battle with Mr Jones, who won a temporary court injunction to prevent his sacking.
But the board issued a statement to members about a deal being reached during the Brumbies 23-10 loss to the Highlanders on Saturday night.
The nature of the settlement is confidential, as is the board's reasons for wanting to remove Mr Jones.
The tensions in the club stemmed from investigations into financial issues related to the Brumbies' relocation to the University of Canberra (UC) between 2009 and 2013.
Brumbies chairman Robert Kennedy said the club remained supportive of an AFP investigation into the sale of its Griffith headquarters in 2013.
A report from auditors KPMG into the sale, commissioned by the Brumbies, was handed to police last September.
Mr Kennedy said the club was now looking to move on after an "unfortunate period".
"There's no winners in these sorts of issues, it's very bruising and it's been a challenging time for everybody," he said.
"I am confident, in the discussions that we've had with the senior management and staff at the Brumbies, and the team, that there is a certain relief that it's over. And now everyone's looking forward to the future."
Mr Jones was the club's third chief executive since 2013, following the departures of Andrew Fagan and Doug Edwards.
Mr Kennedy said they were giving themselves three to six months to find a new chief executive for the club, with community rugby manager Craig Leseberg to act in the role in the meantime.
"There's no candidate in mind, we'll be conducting an extensive search," he said.
"We'll take a good three to six months to look locally, nationally and internationally to find the best candidate."
Australian Rugby Union (ARU) chief executive Bill Pulver said it had been a difficult period for the club, but he had full confidence it remained in good stead.
"We're very pleased with the way the board has dealt with it, but at the same time we're very happy now that it's behind us," Mr Pulver said.
He said the current Brumbies board had the full support of the ARU.
Mr Pulver and others from the ARU spent the day with the board going over the club financials, and he said the club appeared to be in a strong position despite Mr Jones' payout.
"They're having a very strong year financially," he said. "Thankfully Canberra fans are turning out in full support of the team."