Cricketers and tattoos – ten of the best

Wisden India
21/12/2015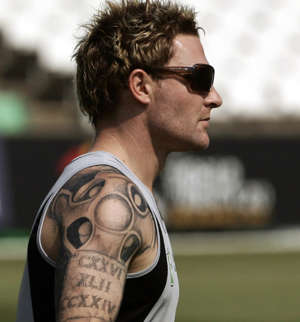 From being looked down upon to becoming a convention of sorts, body art has come a long way – not just in cricket circles, but across the board. Athletes now flaunt their quirky tattoos, which range from numbers in various languages to images of warriors to scriptures or names of loved ones. Not only does it add to their personalities, but also leads to spectator interest.
Here's a look at ten cricketers who wield bat, ball and tattoo with great gusto.
Virat Kohli
The Indian Test captain doesn't believe in half measures, so when he started getting tattoos, he went and got four of them: the Scorpio – his zodiac sign, the Chinese symbol for faith, a Japanese Samurai warrior with a raised sword, and a tribal design. As such, Kohli only wants to retain the Samurai and get rid of the rest, which, by his own admission were done on whims.
Suryakumar Yadav
The youngster from Mumbai recently joined the club by getting the faces of his parents on his right arm. Being an only son, he decided the best way of saying thanks was to dedicate his arm to them.
Kevin Pietersen
Whether it was to remind everyone of his achievements or admission of the fact that his journey in international cricket is over, the South Africa-born English batsman recently got inked with a world map that starts on his chest and goes around to his back. The map has 32 red stars at specific points – places where he has scored an international century. In case he does play for England again, and gets a few more biggies, that tattoo might need an update.
In addition, he also has the Three Lions on his upper arm, which he got during one of his tours to South Africa. He followed that up with the Roman numerals DCXXVI – marking the fact that he was the 626th to play for England.
Mitchell Johnson
The paceman from Down Under is another one for body art. When he started out in top-level cricket, he showed off the stud he had on his tongue. That's gone now, but he has a Koi fish – signifying good fortune – tattooed on his right arm and a crouching panther on the left of his torso.
Brendon McCullum
The New Zealand skipper not only wears his numbers on his cap, but also on his arm. CXXVI, XLII, and CCXXIV: his numbers in the three different forms of the game for New Zealand. The three numbers are part of a scroll on his right upper arm.
Michael Clarke
The pain of discipline is something similar to the pain of disappointment." That's something Justin Langer apparently said once, and the Australia Test captain liked it so much he got it translated in Arabic and had it put on his left forearm. Clarke also has his parents' names in Hindi on his ribcage, his Test cap number in Roman numerals across his back, and a guardian angel on a cross on his right arm.
Andrew Flintoff
Freddie proved his loyalty towards the England team with a Three Lions tattoo along with his Test and ODI numbers in Roman numerals on his right arm. On the left, he has the names of his family members: wife Rachel, daughter Holly, and sons Corey and Rocky.
Lasith Malinga
The Sri Lankan paceman has a fascination for dates. He has '1-7-2004' – his Test debut. And he also has '28-3-2007' – the day he took four wickets in four balls against South Africa in Guyana during the 2007 World Cup.
"If I create more records, I may get more tattoos," Malinga was quoted by The Indian Express once. "They (four wickets in four balls) were very special moments for me, that is why I have them tattooed on my arm."
Jade Dernbach
Earrings in both ears, huge tattoos on both arms – the English fast bowler is talked about more for his aesthetics than his performances on the field. "What counts is not the years in your life but the life in your years," the tattoo on his left arm reads. Both his arms are totally covered with ink, but the most significant amongst his tattoos is the tribute to the late Tom Maynard, this Surrey teammate, on his chest: The design says 'TLM 55' inside a heart – 55 being Maynard's Surrey squad number.
Matthew Wade
Everyone chose a different way to remember Phil Hughes and pay tribute to him. Wade waited for Victoria to win the 2014-15 Sheffield Shield competition and then unveiled the portrait on his right arm – a most touching gesture.
---
---
Slideshow: Cricketers and their kids