De Grasse poised to fill Bolt void

Reuters
19/08/2016
While the people who run athletics are dreading the day Usain Bolt leaves their stage, Canadian Andre de Grasse must be licking his lips at the prospect after emerging as the man most likely to fill the void.
De Grasse chased Bolt home for silver in Thursday's 200 meters final, having taken a bronze in the 100m last weekend.
With 34-year-old Justin Gatlin, who edged him in the 100, due for retirement and Bolt, who turns 30 on Sunday, likely to hang up his spikes after next year's world championships, the 21-year-old De Grasse could be the face of the next generation.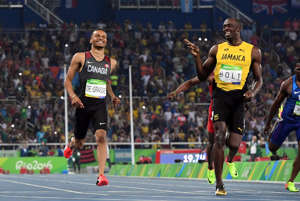 © James Lang-USA TODAY Sports Andre De Grasse (CAN) and Usain Bolt (JAM) react after the men's 200m semifinals in the Rio 2016 Summer Olympic Games at Estadio Olimpico Joao Havelange. De Grasse showed in the semi-final that he has the temperament for the big stage when he took on Bolt in a laughing match as they hurtled for the line together, refusing to slow down despite the pleas of the Jamaican.
Bolt dismissed his antics as the uncool act of a "young man who will learn" but De Grasse was not phased and said he had just wanted to make the greatest sprinter in history work a bit harder.
In Thursday's final, De Grasse ran a superbly controlled race to finish second in 20.02 behind Bolt's 19.98, well clear of Frenchman Christophe Lemaitre in 20.12.
BIG STAGE PERFORMER
Having also taken a share of a bronze in the 100m in last year's world championships - Canada's first global sprint medal since 1999 - and claimed a sprint double in the Pan-Am Games, it is clear De Grasse is a big stage performer.
He has the times, too, with Rio personal bests of 9.91, second in Canada only behind Donovan Bailey's 1996 gold-winning 9.84 and 19.80, a Canadian record.
Asked if he would miss Bolt or be said to see him go, De Grasse said: "A little bit of both.
"Definitely I love competing against him, it's an honor to be a part of history, of what he's accomplished in his career ... but overall, if his time is up, I guess a new person has to come in there.
"But I obviously have to continue to work hard and always bring my 'A' game because it's not going to be easy."
The Canadian also showed that he is not the sort of athlete to settle for second-best, even when that second is to Bolt.
"I'm really happy with two medals but my race today could have been better," he said. "I came off the bend and tried to do something, tried to go, but maybe I used up too much energy in the semi-final.
"Yesterday I ran relaxed. My race today could have been better."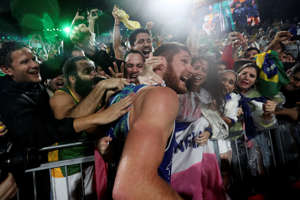 2016 Rio Olympics: Highs and lows from Day 13 For a man born six years after the 1988 Olympics, the name of Ben Johnson probably does not feature much in his thinking, but an older generation of fans will be willing De Grasse to push that 100m best under 9.79.
That was the magic, annulled, but-ever present drug-fueled time Johnson posted to win in Seoul before subsequently being banned.
Perhaps instead they should dwell on another altogether more innocent era, as the last time Canada claimed a medal in an Olympic 200m final was when Percy Williams won in 1928. (Editing Ed Osmond and Mark Lamport-Stokes)