Double trouble: Twins in international cricket

Wisden India
16/11/2016
In cricket, we come across siblings who have played together, but it is not very often that we get to see twins playing together. Last year, the Knight twins- Kyshona and Kycia- led West Indies Women to victory in the third Twenty20 International against Pakistan Women in Grenada. The twins dabbled in football, where they played for Barbados, before taking up cricket professionally. While Kycia is an opener and wicketkeeper, Kyshona, who debuted two years after her twin in 2013, is a middle-order batter.
Wisden India looks at other twins – some who confused the opposition, others who competed for a spot – in international cricket.
The Waugh brothers (Australia)
Born less than four minutes apart, cricket's most famous twins, Steve and Mark Waugh, were the pillars of Australian cricket for several years. Steve first made way into international cricket in 1985, but was dropped to make way for Mark to make his debut. In April 1991, Steve and Mark became the first male twins to appear together in Test cricket. While the Steve was already an established player by then, Mark fit in effortlessly to feature alongside his twin on several occasions. They eventually played 108 Tests and 214 ODIs together, were a part of the Test side that recorded 16 wins in a row from 1999 to 2001, and even featured in the Australian side that won 1999 World Cup. Despite being twins, who by folklore are usually supposed to have a telepathic understanding, their early matches together were marked by a series of infamous runouts, including one which left Steve stranded on 99 not out.

The Marshall brothers (New Zealand)
Hamish and James Marshall became the first ever identical twins to play a (men's) Test — against Australia at Eden Park in 2005. The twins played 20 Tests and 76 ODIs together from 2000 to 2008 but were never regulars for New Zealand. Such was their similarity that even Ricky Ponting, then Australian captain, had a tough time telling them apart, but eventually realised that the twins used different makes of bat.
The Blackwell sisters (Australia)
The Blackwell sisters — Alex and Kate — made headlines in 2004 when they became the first pair of identical twins — male or female — to have represented Australia in international cricket. The pair formed part of the Australian team that claimed the Women's World Cup in South Africa in 2005. But they were pitched in a direct battle as both were vying for middle-order slots, and Kate, an attacking middle-order batter was dropped from the 2009 World Cup squad. Besides cricket, the Blackwells juggle professional commitments, coming from a medical background. While Alex, Australia's current vice-captain, is a genetic counselor and a lecturer, Kate is a physiotherapist.

The Signal sisters ( New Zealand)
The Signal sisters, Elizabeth and Rose, from New Zealand, were the first pair of twins to feature in a Test together. Both were allrounders, and played with distinction for the New Zealand Women Under-25 side, and made it to the England tour of 1984. Making their debut together in the first Test at Headingley, Rose was out for nought and made 8* in the second innings, but never played another Test. But Elizabeth, who has six Test caps to her name, was retained for the rest of the series.
The sisters made their ODI debut during the same tour of England, but not together. While Rose played the first Women's ODI at Hastings, Elizabeth played the other two at Grace Road and Bristol. However, the sisters played together at Haarlem when the team had a stopover at Netherlands. In the process they became the first twins to play ODIs as well.
The Powell sisters (England)
In the 1984 series that the Shevill sisters debuted in, Jane Powell won her first cap for England. Jill, her twin, had played one Test in 1979. Jane played six Tests and 24 ODIs, with a highest score of 115* against India. After retirement, Jane coached the England Women's team, and now heads coaching at the England Hockey Board.

The Shevill sisters (Australia)
Though the Signals were the first twins to play Women's Tests together, Fernie and Rene Shevill were the first pair of twins who played international cricket, though not in the same match. They both played Tests for Australia Women, that too in the same series, but not together. While Fernie featured in the first Test against England Women in Brisbane in 1934-35, Rene played the second and the third Test. Incidentally, Essie Shevill, their elder sister, played all three Tests. Fernie, a right-arm pacer, opened the bowling for Australia in the first match, and Irene kept wickets in the second and third Tests.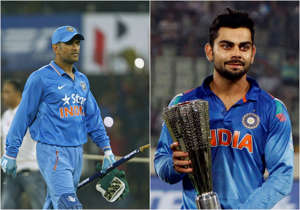 Watch: Jonty Rhodes' miracle catches