Focus on the game not the pink ball says Warner

Wisden India
25/11/2015
Experience of playing in the dark with a white ball should be enough preparation for day night Test says opener
David Warner is not apprehensive about playing with the pink ball and feels that Australia need to focus on their skills and not on the ball when they get on the field this Friday for the third and final Test – a day-night affair – against New Zealand in Adelaide.

"If we concentrate too much on the ball, we'll forget what we need to do," said Warner on Tuesday (November 24). "Our job is to win the games, score runs, take catches, take wickets. For us it's about focusing on the game and not worrying about the ball.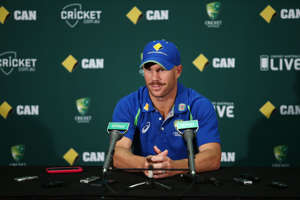 "In the last Test, we saw the red ball going out of shape. It was a bit of a bummer but that's what happens in the game. We want to move on and for us it's about focusing on the game and taking the ball out of the equation."
Warner acknowledged that after the run fest in the second Test in Perth, the conditions in Adelaide would need getting used to. "The last two wickets have been very batter friendly," he said of the Brisbane Test, which Australia won, and Perth. "It's going to be a different story playing here and I think you'll see the ball move around a bit off the wicket.
"We had a training session in the night time and we've all played day-night cricket with the white ball so we all know what it is like batting in the night. We know it can swing around. We did see Mitchell Starc come and bowl very well and the ball did swing a bit.

"We know that their (New Zealand's) strength is swing bowling. We want to see that spell out, like we have done in the last two games. I think that's what we have done well as a batting unit. The fact that we have been able to see through that spell and wait for the bad ball. Steve (Smith, the captain) wanted the top six to score all the runs and at the moment we've been doing that."