Here's how much it costs to own a ball from the Rio Olympics

CNBC
16/08/2016
© Provided by CNBC Fans of the Rio Olympics can now buy sports memorabilia from the games' official auction site. 

Flags used during the opening ceremony, official torches and match-used balls are on offer for sport fans to bid on.
The most expensive item to bid on at the moment is one of the sixteen torches used to carry the Olympic flame. It's currently priced at 15,000 Brazilian real ($4,700).
To own the ball used in the final match of the Women's rugby sevens between New Zealand and Australia will cost 1,505 real ($471).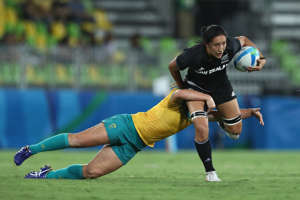 © Getty Images Sarah Goss of New Zealand is tackled by Ellia Green of Australia during the Women's Gold Medal Rugby Sevens match between Australia and New Zealand on Day 3 of the Rio 2016 Olympic Games at the Deodoro Stadium on August 8, 2016 in Rio de Janeiro, Brazil. Meanwhile, the flag of Israel that was carried by the country's athletes during the opening ceremony parade, has seen a bid for 4,905 real ($1,537). The opening bid for the flag was just 150 real.
The auction has been organized by the Canadian companies Pursuit 3 Group and Commerce Dynamics, as well as U.S.-based Snow Commerce. The firms previously organized auctions for the London 2012 Olympic Games and the Rugby World Cup in 2015.
The auction site promises that all the items are authentic and can be shipped internationally and the auction is expected to remain active until the end of October. Profits from the auction will go directly to the Rio organizing committee to help fund the games, a representative from Pursuit 3 told CNBC via email.
"The Rio 2016 Official Auction is the only website which is authorized to sell official memorabilia products from the Rio 2016 Olympic and Paralympic Games," the website says.

"All items are sourced directly from the Rio 2016 organizing committee and come with the official memorabilia security hologram and authentication certificate."
Sports memorabilia can become incredibly valuable. The most expensive piece of memorabilia ever was a jersey worn by baseball legend Babe Ruth in 1920: It was sold at auction in 2012 for $4.415 million, according to sports news website The Sportster.