Introducing the glistening Tonga flagbearer

USA TODAY SPORTS
6/08/2016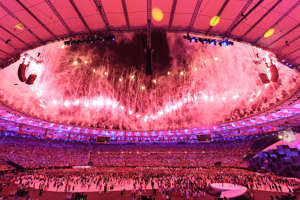 In photos: Rio Olympics opening ceremony Tonga is mostly an overlooked country at the Olympics, with a rather small delegation and just one medal in its entire history, a silver back in 1996.
But it provided perhaps the most memorable moment of the Parade of Nations on Friday when its flag-bearer came out bare-chested and dressed in nothing but a ta'ovala (Tongan mat) wrapped around his waist and copious amounts of oil on his torso.
Who is the mystery man?
© REUTERS/Stoyan Nenov Flagbearer Pita Nikolas Taufatofua (TGA) of Tonga leads his contingent during the athletes' parade at the opening ceremony. It's Pita Nikolas Taufatofua, who qualified for the Olympics through the Oceania Takwondo qualification tournament in April.
The 32-year old had fallen short in his two previous attempts to make the Olympics. V
ery little else has been written about Taufatofua, but a Web page on generosity.com to raise money for his training indicates that he "sacrificed his whole adult life working in homeless shelters with the underprivileged."
He raised $6,262 dollars in four months.
According to his official biography, he was born in Australia but chose to compete for Tonga because of his father's heritage. 
After his star turn on Friday, he won't be a secret for long.